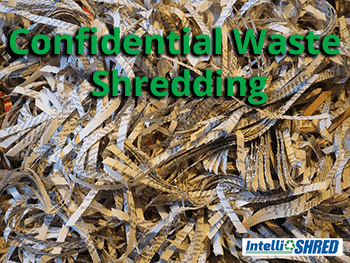 During almost every stage of business, companies collect personal, confidential or sensitive information. It's the company's responsibility to protect that information from the risk of identity theft and data breaches. Information security is essential, and failure to comply with new data protection regulations could result in numerous fines, and damage to your company's reputation.
Although there are strict regulations in place, to remain compliant, it's best that companies contract with a third-party shredding and destruction company to collect and handle their confidential waste shredding. There's an essential need for companies to protect confidential waste and sensitive data, because if it gets into the wrong hands, it could negatively impact your company. Using these services will not only protect your information, it will help your company reduce its impact on the environment.
Today's secure destruction services and shredding services are quite reliable – they must always perform according to the regulations which govern their process. Shredding stacks of documents with an office paper shredder is certainly not efficient or secure. A third-party confidential waste shredding and destruction service can us their industrial size shredders to shred all your documents into unreadable pieces. This process saves you time, because you won't need your employees to stop what they're doing and shred with a very small office shredder.
Typically, an on-site shredding service destroys all confidential documents at the client's site, in their state-of-the-art shredding truck according to regulatory procedures. At the end of the on-site service, they provide a certificate to you for proof that the information has been destroyed.
At IntelliShred, our team has quality experience in information security, legal, and regulatory industries which makes them highly effective. It's our priority to make sure we provide you with an understanding of the shredding and destruction process. In turn, we will learn more about your business so we can create a turn-key solution and put policies in place for secure and confidential waste shredding.
We offer our customers:
A highly-qualified, efficient team able to get the job done
Compliance with HIPAA and other regulations
Mobile shredding on-site, NOT off-site shredding
State-of-the-art software for tracking confidential waste shredding
Regularly scheduled or random one-time on-site service
Secure bins for storing confidential documents
Destruction of CD-ROMS, DVDs and hard drives
At IntelliShred, we're proud to be an award-winning, fully-compliant service provider, according to the United States Privacy Act, the Safe Harbor Act and the Health Insurance Portability and Accountability Act. We offer our customers the most reliable, comprehensive services with along with the best technological tracking software.
IntelliShred handles confidential waste shredding, digital media storage device and x-ray disposal for our customers. For more information on our services, please contact us right away. We can answer any questions you may have and easily provide you with a list of references.