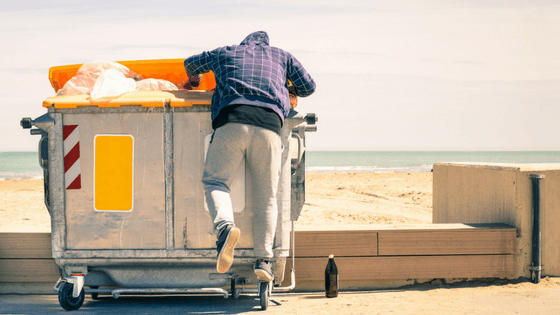 Dumpster Diving Identity Theft
Nobody enjoys when that day arrives in the mail where it's time to pay those dreaded utility bills; after all, as a business you deal with enough paperwork on a regular basis right? While it's a process nobody enjoys, it's a process all New Jersey residents and businesses must deal with.
So what happens when each of your bills have been organized, sorted, and paid? Alarming enough, many companies continue to toss away documentation pertaining to bills, once they're no longer needed. This is one of the biggest mistakes one can make, as throwing away sensitive information such as financial documents, poses a major security threat to your business. Documents that are simply thrown in the trash provide no protection to your company; in fact, if the wrong person gains access to your information as a result, they may be equipped with enough "juicy details" to carry out a criminal act such as identity theft.
Each business document whether pertaining to your financial records or not, is flooded with highly confidential details. Your name, address, telephone number, credit card number, and bank account number need to be protected at all times, to ensure unintentional exposure. Ultimately, if you do not safely shred these sensitive documents, they may be collected by someone else. Dumpster diving identity theft happens, and believe it or not it's completely legal.
Your Trash, is an Identity Thief's Treasure
What are the chances that somebody will actually locate your papers in the trash? While you may think the likeliness is slim and that no one will spend the time and effort searching through trash, you are wrong.
Surely no one will take the time and effort to go through your garbage in hopes of finding this information, right? Wrong. Never under estimate what identity thieves are capable of, even with the smallest tidbit of information. If a criminal is determined and equipped with the necessary resources to perform a crime, you may soon be faced with an empty bank account or credit cards under your name you didn't sign up for. At the end of the day if you or another employee are carelessly tossing away documents that are considered trash, rather than securely shredding them, you could be setting yourself up for legal liability, and consequences that may be irreversible.
Protect Yourself from Dumpster Diving Identity Theft:
Never dispose of papers that include a Social Security Number, driver's license number, or bank account number into a garbage bin.
Old credit and debit cards need to be thoroughly destroyed for your security. Ensure you outsource this job to a trusted company in the industry, such as IntelliShred in New Jersey.
When in doubt shred everything. All records containing vital information should be securely destroyed by a professional paper shredding company. Remember that a recycling bin does not justify as protection either.
When you partner with IntelliShred to look after your sensitive financial and business documents, we guarantee to shred all information securely, and in accordance with New Jersey privacy laws, keeping your business compliant and safe. While identity theft can be detrimental, it's easy to prevent if you take the necessary precautions. Don't put your employees and customers at risk of dumpster diving identity theft.
Contact us today to speak to a representative about our confidential data destruction solutions. We are happy to discuss with you your specific needs, customizing a unique shred program that's fitting for you. Call IntelliShred today! 1-866-747-3360