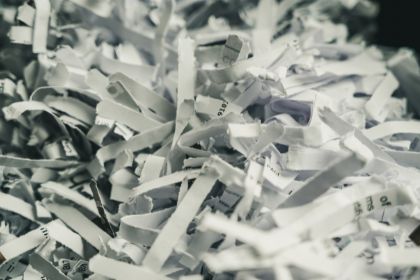 Did you know that the US Supreme Court stated that it was unreasonable for us to expect the privacy and security of our trash once it's left in an area accessible to the public? That takes the idea that one man's trash is another man's treasure to a whole new level. The idea of someone snooping through our trash is already unseemly. But more than that, it can also result in serious repercussions. That is the case if a thief gets access to a plethora of sensitive documents and data pertaining to your business. Here's how secure shredding can help prevent fraud and theft.
Complete Destruction
Have you ever had a piece of paper with relevant information that you no longer needed? You likely gave it a tear or two and tossed it in the trash. Unfortunately, a simple tear like that won't do much to curb a thief, as it's quite easy to put back together and steal your information.
That's why outsourcing your shredding can ensure security and prevent you from falling victim to fraud and theft. These shredding companies know how to destroy your sensitive documents and data, so they're wholly inaccessible.
Assured Destruction
With so much on the line, it makes sense that you want to ensure these companies thoroughly destroy your sensitive data and documents. When fraud and theft are on the line, relying on word of mouth isn't enough. At IntelliShred, we bring the destruction right to you with a mobile shredding service. You can literally watch us shred your information, which will bring you certainty in knowing we have truly destroyed your data. Moreover, we'll also provide you with a certificate of destruction detailing how, when, and where you properly destroyed your information.
More Than Documents
While companies still use paper to store important information, we can't ignore the ever-growing presence of technology. Many companies tend to keep lots of private information about employees and consumers all on their technological devices. As you can surmise, a reset to factory settings isn't sufficient to protect this information. Thankfully, we also know how to safely destroy your electronics like computers, monitors, and hard drives, so all your information stays protected across various avenues.