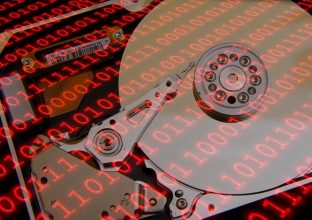 Mobile Hard Drive Shredding
It's not uncommon for companies to store old hard drives or computers that are no longer in use. However, to ensure that the important information stored on that technology is not at risk, mobile hard drive shredding or destroying it is essential.
Important information like bank account statements, social security numbers, proprietary information, medical records and other sensitive information could fall into the wrong hands, making your business liable. If that confidential information is stolen, not only will you be sued, but paying for the costly legal fees could stop your business from remaining profitable.
Similar to the reason we advise our clients to shred sensitive documents, the only reliable way to guarantee that information stays safe is to physically destroy the hard drive. Data wiping software, degaussing, crushing or punching the drives can still leave data intact. The efficacy of destroying important information by using these other methods is not as dependable as mobile hard drive shredding is.
The destruction process is not complicated. Shredding the physical drives will not only comply with multi-industry standards, it will ensure that any information on the drive will no longer be usable. Recycling can destroy any data storage device you have from full laptops to CD's, flash drives, smart phones, PDA's, tapes and any other custom or proprietary devices your company might use.
Currently, there are U.S. privacy laws in place that not only require secure data destruction for certain businesses. These regulations can also hold senior executives and IT departments accountable for any type of data theft.
IntelliShred is a mobile shredding and destruction service with years of experience. When you are ready to dispose of your old equipment, contact us and we'll be glad to be of service. Our mobile hard drive shredding trucks are equipped with shredders for large clients and data centers. With destruction, hard drive serial numbers are scanned prior to shredding to facilitate final inventory reconciliation. We have always adhered to the proper regulations to remain compliant, and we provide you with same day Certificates of Data Destruction. Contact us today for more information on our services.