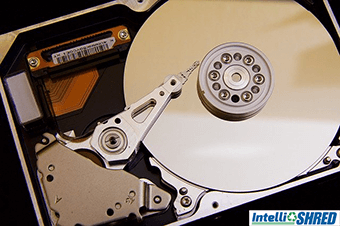 Onsite Hard Drive Destruction
There are so many ways you can protect confidential information from getting into the wrong hands. But the most ideal solution is to go straight to where the information is permanently stored – your hard drive. It's always wise to destroy your hard drives so that the hardware cannot be re-used in any way, and what better way than to destroy it onsite at your location? Onsite hard drive destruction is also crucial for maintaining compliance with laws like HIPAA.
There are three different destruction methods that can properly destroy hard drives:
Shredding
Crushing
Degaussing
All three of these methods will protect your confidential information and virtually eliminate the risk of any data being recovered from the destroyed media.
It may seem simple to destroy hard drives, but there's a greater risk of your data being recovered and used maliciously if it's not done properly. Hard drive destruction is best handled by a professional, local shredding company able to properly destroy electronic data storage media.
Businesses could end up facing penalties or heavy fines if their hard drives are not destroyed properly. If there's a security breach, the consequences could cost your business thousands of dollars in fines.
Most professional data destruction companies have the most current knowledge of the proper methods for onsite hard drive destruction. Hiring a professional service helps ensure your hard drives are destroyed and disposed of according to federal and state regulations.
A professional shredding and destruction service will provide cost-effective and secure, onsite hard drive destruction which includes:
Removal of asset tags
Reporting of serial numbers
Video capture to document destruction process
Real-time asset tracking
State-of-the-art mobile trucks
Environmentally-safe disposal
On site hard drive destruction services utilize high-security hard disk shredders, or machines called disintegrators. These destruction methods will render any recorded data completely unrecoverable.
These are the three reasons why shredding hard drives works best:
Cost-Effective
The cost of destruction may depend on how many hard drives you need destroyed. The easiest and most economical solution is hard drive shredding – which is also the faster method.
Security
Hard drive destruction should be as secure as possible – shredding is ultimately the best option for most situations, because it is permanent with absolutely no option for recovery.
Fastest Method
It's so much faster to gather hard drives together for a one-time destruction than it is to send them out to be crushed and degaussed.
Federal and State privacy laws require monitoring of the qualifications, processes and compliance of the third-party vendor you hire, so it's important to hire a AAA Certified Hard Drive Destruction Company. The NAID (National Association of Information Destruction) monitors service providers to ensure they remain compliant. Having the NAID's AAA recognition, ensures that these shredding professionals have done their due diligence to adhere to the privacy laws.
IntelliShred is able to provide customers with the peace of mind that all critical information is being destroyed in a secure manner. We provide a Certificate of Destruction that clearly indicates the job was executed in a safe, secure manner. Call us today for more information on how we can provide you with an efficient onsite hard drive destruction or paper shredding solution.