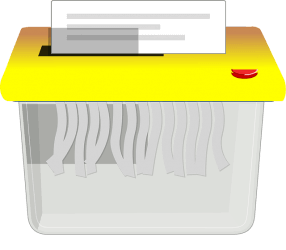 Paper Shredding Equipment
In this day and age, we all know we need to shred our old useless papers for the sake of security. This is the reason why a large variety of paper shredding equipment has cropped up to suit different requirements.
So what kind of paper shredding equipment do you need?
There are three main uses with paper shredding equipment: home, office, and industrial.
Home Document Shredders
This kind of paper shredding equipment is a necessity for everyone. We all have too many documents lying around the house. It can be tempting to just toss them in the trash. However, shredding them is always the better idea.
Now you may be tempted to go with the cheapest paper shredding equipment, which is the strip cutter.
However, we usually advise against it. This type of paper shredder is notorious for being messy, getting jammed up, and taking up a lot of space with the shredded paper strips.
Strip cutters are also a higher security risk. The resulting paper strips can be reassembled fairly easily.
Thankfully there's a better option: the cross cut shredder, aka the confetti shredder. This shredder is so named because the resulting papers are small as confetti. The smaller pieces results in less space being used and fewer paper jams.
Office Shredders
So what exactly is the difference between office paper shredding equipment and home paper shredding equipment?
The main difference is office paper shredding equipment usually shreds faster and is larger than the home variety. Many office shredders also have thermal protected motors so they won't burn out from high volume shredding.
The best place to start looking for an office shredder is online. There are many different varieties of office shredders, so doing some online research is a good idea. Check store reviews and do price comparisons of the best paper shredding equipment for offices.
Industrial Shredders
Watching an industrial paper shredder go to work is one of the things in life that should be on every person's bucket list.
The sheer power of an industrial shredder is breathtaking. The volume and variety of materials that can be shredded are unmatched by any home or office paper shredding equipment available. Industrial shredders are typically used by large corporations and big businesses.
The main advantages of industrial shredders are:
They don't require constant supervision for paper jams or other errors.
Shredding is done quickly and efficiently. More than 650 pages can be shredded at a single time. Industrial shredders are big, so they can handle huge stacks of paper all at once.
Many of them come with a dust extracting system. This makes the machine run smoother without the need for to clean it yourself.
Now that you know the different kinds of paper shredding equipment, choosing the right one should be pretty straightforward. Contact us if you have any questions or if you would like to schedule a visit for onsite document shredding services.