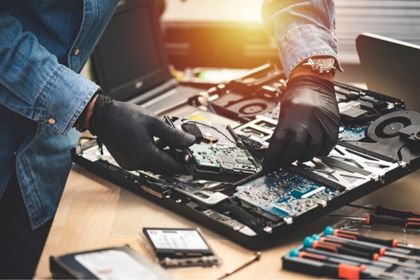 Whether you use your technological devices to manage a business or for personal reasons, your devices will always store and keep that data on the hard drive. Usually, you won't worry much about that until the time comes for you to purchase new devices. As a result, you might think you can simply do a factory reset on your tech devices, but that does not completely remove your sensitive information. Keep reading for reasons why you need secure electronic waste management.
Keeps Data Secure
The entire lifecycle of the technological devices you use is important, from the first time you hit that power button to the last. Each phase is important because your devices store data forever; even if you "delete" something, that data will remain on your hard drive in some form. As such, a hacker can easily access confidential information you assumed was protected. That is why you need secure electronic waste management, as it ensures your data remains confidential even after the last use.
Stays Compliant
You likely know that the Federal Trade Commission has laws protecting consumer information. As such, you must remain compliant with these laws, including destroying information and technological devices that store information. However, not all destruction practices are the same—data must be unreadable or indecipherable.
Failure to destroy this information properly can result in fees you want to avoid. This is where we can help you. At Intellishred, we offer hard drive shredding to make sure you stay compliant and secure. Our team will carefully and securely remove all hard drives from your computers, ensuring the complete destruction of your devices. You can trust your information is in good hands, then no hands at all.
Environmentally Friendly
We all know how much of an issue waste is to our environment, which is why we pride ourselves on our e-waste destruction methods. We recycle all e-waste products, including but not limited to computers, monitors, printers, and hard drives, in a completely eco-friendly way. We will safely destroy any other electronic materials, like CDs, X-ray film, and microfilm.