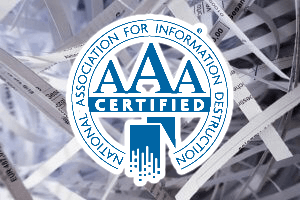 Certified Product Destruction
It's not rare that product manufacturers or packaging companies end up with a warehouse full of products or components that they are no longer able to sell. Sometimes it's because of a product recall, a recent legal action or even a change in manufacturing standards.
It's important that companies have secure, cost-effective solutions for destroying these items. To protect their brand, trademark or copyright, companies should choose highly-qualified vendors for certified product destruction services. It's a wise choice to keep branded items from ending up in the wrong hands and ruin the company's reputation.
Without destroying these products, there is a high risk for a brand-named business to falter. Sometimes these products can appear on the "grey market" and that would create increased liability, brand erosion, and millions in legal costs. It is necessary that companies procure a certified product destruction option to protect their brand identity.
Certified product destruction is the process of destroying or disposing of these leftover products. Typically, these services ensure destruction of these leftover products so they will not be used illegally.
For some companies, there are concerns over disposing of certain media products, like digital devices, films, or paper documents. These items should not be disposed of, they should be destroyed properly to avoid disclosure of confidential details or data. Electronic products usually contain embedded memory with quickly duplicated software. They should also be destroyed to protect your trademarked or patented designs from getting into the hands of your rivals.
Whatever type of vendor you hire for the job, be sure they provide monitoring and protection throughout the whole destruction process. With valid proof of the destruction, they can guarantee that the products are indeed destroyed. Be sure to look for companies that provide the appropriate paperwork, including a certificate of destruction, as well as, photographic and/or video evidence of destruction.
It's not always easy to hire a vendor that's experienced in this area, has the proper destruction equipment, and will provide you with the best price. But here are some things to consider when searching for a certified product destruction vendor:
Trustworthiness – are there good references from previous clients?
Are they experienced and licensed properly?
Be sure to understand the disposal plan for e-waste destruction and that it's legal
Are they going to provide evidence of the entire destruction process?
Does the facility have 24/7 surveillance for their storage area?
Will they provide you with certification that the destruction has been completed properly?
IntelliShred's certified product destruction services have been helping customers destroy paper, floppy drives, CD's and DVD's, Video Cassettes, Microfilm, Microfiche and many more products.
We provide a certificate of destruction, and a green solution for the disposal of your destroyed material. Our on-site team will come to your location to perform the destruction with our mobile trucks. Our trucks have all the necessary equipment and tools to efficiently and securely destroy or remove your items.
Contact us today for more information on how we can provide certified product destruction services for your business.