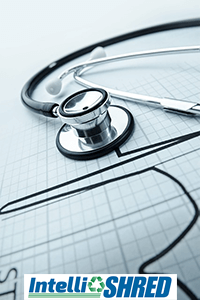 Disposal Of Medical Records
Knowing whether or not to retain medical records is not always straightforward. It's something that most providers think to be the highest priority, but disposing of patient's medical records is essential to the health of your organization or practice.
The destruction process is not difficult to implement, but because there are federal and state laws which govern disposal and destruction methods, it should be handled by a professional shredding and destruction service. If your organization does not have a destruction policy already in place, you should definitely develop one as soon as possible.
Regulations for the disposal of medical records exist at both the federal and state levels. The federal laws include the HIPAA (Health Insurance Portability and Accountability Act) Rule. This privacy rule governs any covered entities and how they should apply appropriate administrative, technical, and physical safeguards to protect the privacy of protected health information (PHI), in any form.
These days, most PHI is stored on some type of digital device, but there could also be paper copies of the medical records. Whether it be email messages, SMS or text messages, video recordings, file downloads, or other electronic media storage, it's absolutely essential that protective measures are in place.
HIPAA's Security Rule establishes the administrative, physical, and technical safeguards that covered entities and business associates must put in place in order to secure electronic protected health information as they are created, received, maintained, or transmitted.
The HIPAA rule also states that organizations need to have policies and procedures in place to address the final destruction of electronic PHI and/or the electronic media on which it is stored. Failing to implement these proper safeguards to protect PHI could result in severe penalties and fines.
Organizations that handle PHI can't just go about disposing confidential information in dumpsters or containers that are accessible by the public. The most important types of PHI that need protection are social security numbers, driver's license numbers, debit or credit card numbers, diagnosis or treatment information, or other sensitive information. Pretty much anything that could result in identity theft, discrimination, or that would bring harm to an individual's reputation.
It is always encouraged to hire a professional disposal or destruction service because of their direct expertise. The following is a list of common ways a professional company would go about the disposal of medical records:
Burning, shredding, pulping and pulverizing paper documents
Recycling and pulverizing microfilm or microfiche
Pulverizing laser discs (document-imaging applications)
Magnetic degaussing is used to destroy computerized data
Shredding or cutting DVDs
Demagnetizing magnetic tapes
When outsourcing the disposal of medical records, you should know there are special clauses under the HIPAA privacy rule, which state that your vendor contract should include the following elements:
The date of destruction
The description of the records being disposed of or destroyed
The chosen disposal or destruction method
The timing between acquisition and disposal or destruction
Indemnification for the organization
The proper level of liability insurance to cover any mistakes or breaches
Signatures of witnesses to disposal or destruction process
The most effective way to remain compliant and protect your business/practice from unwanted legal action is to hire a mobile professional shredding and destruction service. These technicians will come right to your door, assess your needs and provide a certified shredding and destruction process that is safe and secure.
At IntelliShred, we have spent years perfecting our shredding and destruction methods, which include the secure disposal of medical records. We only hire the most qualified technicians available to handle your shredding and destruction needs. We are industry certified and our customers come back to us year after year! Contact us today to learn more about how we can help safeguard your business.