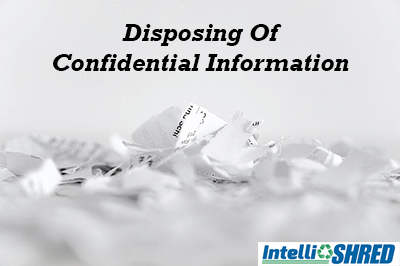 Disposing Of Confidential Information
At one time or another, every business could end up dealing with theft of their confidential or sensitive information. Whatever information your company stores should be secured or properly destroyed if it's no longer needed. To help avoid the theft of confidential information, every company should implement a document disposal process.
When faced with the challenge of safeguarding information, it's best to follow the following disposing of confidential information guidelines:
Develop a confidential information management policy
In order to lower your company's chances of experiencing a data breach, it's best to establish a specific business records retention schedule. This type of policy will help determine how long your business should store confidential documents or records. Your policy should specifically state how confidential files are dealt with and who should have access to them. Every employee in the company should be trained and face consequences if they don't adhere to the company's confidential information policy.
Change your company's environmental impact
It's not just illegal to throw away documents with sensitive information, there is also a significant environmental impact. Recycling is effective, but for confidential documents it may not be secure enough – shredding is a better way to ensure that sensitive information does not get into the wrong hands. It's not efficient or effective to rely on store-bought shredding machines – they cannot handle the disposal of confidential information in high volumes, or destroy a digital media storage device.
Most experts suggest that paper should always be shredded using a cross-cut method in order to destroyed beyond recognition and most store-bought shredders don't feature that ability. To save the environment, it's best to cut paper down to a size which can be recycled more easily – only professional shredding equipment can shred down to the smallest size.
Make sure you find the right shredding company
Proper disposing of confidential information is always worth the extra investment. Don't put your confidential information at risk by choosing just any shredding and destruction service. A professional shredding company can help you stay in compliance. Avoid legal trouble, help save the environment and obtain peace of mind that you've done everything you can to protect the valuable information you store.
It's best to find an experienced shredding company with a strong reputation and good references. Look for a provider that is certified by the National Association of Information Destruction (NAID). If they are AAA certified, then you know they are working with the highest ethical and professional standards.
There are many reasons why a professional shredding company will help. They typically provide a certificate of destruction which will prove that your company is in compliance with shredding and destruction regulations. A professional and accredited service is ideal, because if an identity theft case ever surfaces, your business could be held liable.
Most of these companies will provide certificates of destruction which prove that the shredding and destruction process was properly executed. They can also help your company avoid legal trouble, help save the environment and provide the proper protection for the valuable information you store.
IntelliShred is a full-service document shredding and destruction company which offers daily, weekly, and monthly service packages. We are NAID members and we have a fleet of mobile shredding and destruction trucks with state-of-the-art equipment. Learn more about how we can help you protect your business – contact us today for more information on our services.