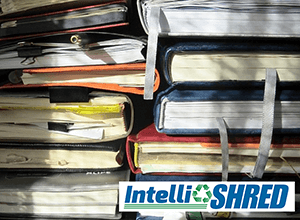 Business Records Retention Schedule
Cleaning up your office space every quarter is necessary in order to keep confidential information secure. Not only does the process of cleaning up create physical space, it allows your company to purge old paper documents and information storage devices that have been sitting around. These items, if left in piles or in unlocked drawers, can end up being prime targets for identity thieves.
The best way to get rid of confidential information that is no longer relevant is to set up a business records retention schedule. This is a process where every so often (could be monthly, quarterly or annually), the company goes through its records (both paper and digital), to determine what is still necessary to keep on file.
Of course, it can be difficult to decide which or what type of confidential information needs to be shredded or destroyed. There may be certain records which need to be kept for a longer period of time, but it's important that those items which are no longer relevant be shredded or destroyed.
The records management life cycle begins when information is created and ends when the information is destroyed. The ultimate goal is for organizations to monitor the cycle on a regular basis to determine when they should go through a purge of their files.
Specifically, in the healthcare industry, there are state regulations which apply to the length of time you can keep a patient's medical records. There are record retention guidelines for the healthcare industry, but they vary by state. When the patient is a minor, the company should retain health information until the patient reaches the age of majority (usually 18), plus the period of the statute of limitations.
There are several reasons why a business records retention schedule is important in the healthcare industry:
It's crucial to ensure the availability of timely, relevant data and information for patient care
It's essential to meet federal, state, and local legal requirements regarding confidential data
It's wise to reduce the risk of legal discovery and identity theft
There is not a standardized business records retention schedule that companies and organizations must follow. There are a variety of retention requirements that must be met, but each company can develop their own customized retention program. Individual states have retention requirements that should be used, so you should refer to your state laws for specific requirements.
Remember, confidential information on hard drives and other electronic media also require shredding and destruction. Thieves are using advanced data retrieval software that can recover deleted information, so simply hitting the delete button won't work. Shredding or destroying the information storage device takes it to another level so that the data is irretrievable.
Although there are many ways to dispose of important documents and electronics, the most secure and cost-effective method would be to hire local document shredding services. Mobile shredding trucks can come straight to your location and perform the shredding right there on site. It truly is the most secure and cost-effective way to shred.
IntelliShred has led the shredding and destruction industry for 20 years. Our team provides customers with confidential data destruction and information security solutions. We are committed to maintaining the highest ethical standards and practices, and outstanding, personalized service. We're proud to be members of the National Association for Information Destruction (NAID) and we have consistently achieved AAA Certification – the highest level of security in the shredding industry.
Contact us today for more information of how we can help keep your information safe and secure.