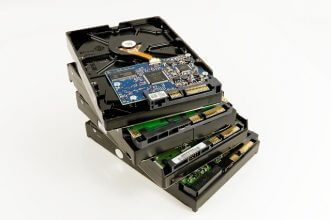 IntelliShred's Hard Drive Disposal Service
Data breaches are something you hear about every day. It seems not a day goes by when there isn't some news about another company experiencing a data breach. Understandably, if you own a business, this is one of the biggest fears you may have.
When it comes to getting rid of old hard drives, it's vital to make every effort to avoid data breaches. If you want to avoid all the problems that come with accidental loss of data, have IntelliShred take care of your hard drive disposal service.
All Data Becomes Unrecoverable
Disposing of hard drives in the proper way means they cannot be accessed by criminals who would just love to have them and all the data on them. They know that a hard drive from a very small business may provide access to their larger business partners.
Hard drives that are thrown away, damaged, and even erased can all have their information recovered by identify thieves. Why risk company information leaks or worse, when there is a simple solution for all of your old hard drives.
Why take any risks when it comes to your company's sensitive data? Don't do physical destruction of your hard drives on your own. Only by using high-security data destruction machines can you be assured that any data from your company has been completely destroyed.
Don't Be Fined for Not Disposing of Hard Drives Properly
There are hefty fines for anyone who doesn't dispose of business hard drives in the proper way. It is of the utmost importance to dispose of all data storage media for every business.
Any time there is a security breach and your company is involved, it will cost you thousands of dollars in fines, not to mention the unwanted publicity that goes along with such a situation. To avoid paying fines, use our hard drive disposal service.
Organize Your Office Space the Right Way
Storing old hard drives is a waste of space. Stay efficient by enlisting the help of our e-waste pickup and product destruction services. Our services include pickup by trained, uniformed representatives; handling procedures that leave you with a secure chain of custody; a certificate of destruction for you, and disposal in an environmentally friendly manner.
By disposing of hard drives in the right way, you're making room (mentally and physically) for newer, more efficient modes of operation and that can only be a good thing for your company.
Be in Regulatory Compliance
As a professional data destruction company, we know the regulations covering every piece of sensitive data and products such as hard drives. We know the rules because it is our job to comply with the regulations that apply to you. By having us take care of all of your data needs, you are automatically eliminating the worry about compliance, fines, and data breaches.
Be Assured of Complete Removal of All Data
Our hard drive disposal service can assure you that all data that is stored on old hard drives and other data media is completely removed. By using a high-security data destroyer, we ensure that all data is eliminated completely. There is never the risk of criminals getting their hands on your data for such things as identity theft, or company info leaks.
Our methods mean that all data on hard drives is made unrecoverable. There are modern forensic techniques to try and get your data back, but these will not work when we destroy your hard drives for you.
If you are looking for a reliable company to take care of your company's hard drive disposal service, contact us today. We securely destroy all sensitive data media storage that is found on old hard drives. By doing so, we also ensure your company is in total regulatory compliance. It doesn't get any easier than that.