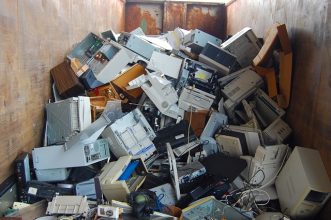 Getting the latest and greatest device is always an exciting time, but it leaves a trail of outdated and unwanted hardware. Not only does this take up space, but getting rid of it is more complex than a trip to the trash can.
Proper e-waste disposal reduces the impact of electronics on the environment. It stops all the toxic fluids and broken glass from getting where it shouldn't. The only way for e-waste disposal to work, though, is with a proper place for e-waste disposal.
We here at IntelliShred pride ourselves in serving the New Jersey, New York, and Pennsylvania areas for all their e-waste pickup needs. Let us dive deeper into the importance of proper e-waste disposal.
Global E-Waste Issues
Whether it's cell phones, computers or other electronic devices, our fast-paced world is always eager advance to a better technology, year after year. Electronics have always produced waste, but in recent years, the rate at which we use and discard devices has rapidly increased.
For every person who purchased a cell phone last year, their device should still be working up to par – so then why replace a perfectly good, recent model with the newest one? Whatever the device, smartphones, tablets, laptops, or TVs, the fact that consumers are replacing them so quickly causes a significant increase in e-waste, thus a need in e-waste pickup.
This constant accumulation of e-waste is difficult to ignore and it's becoming yet another threat to our environment. E-waste is a global issue that impacts ecological systems and if not disposed of properly, they could cause a whole host of other issues. Electronic devices often contain a variety of hazardous materials like lead, mercury, and silver and these toxins can pollute the soil and drinking water supply, which makes e-waste pickup a vital service.
Electronic waste needs to be handled in the most environmentally responsible manner. Companies need to find a service provider with the right expertise with the proper disposal process. For compliance purposes, you must ensure that the vendor you choose to hire meets all federal, state and local regulations for proper e-waste pickup and disposal. The destruction process should be secure, convenient and compliant from end to end, see our mobile hard drive shredding service as an example.
The Precautions to Take Before E-Waste Disposal
No matter the reason for disposing of any piece of electronics, the first step to proper e-waste disposal is to take some precautions. Electronics use fragile pieces that can be sharp and hazardous if broken. Not to mention any liquids in screens or batteries.
Before you take your e-waste to a disposal site, check these 3 major parts.
1. Cover Leaks and Dangerous Materials
The first issue is dealing with any obvious danger that the electronic might possess. If you are only upgrading an intact and working piece of equipment, this step can be simple and easy. If you are replacing something broken, then make sure to take care.
Gather up any broken glass into a hard container. If you use a flimsy bag, it may cut through, so even a plastic bin can work wonders for busted monitors and such.
If there are any leaking fluids, make sure to contain the object as soon as possible into a tight and sealed container. Make sure to clean up any leaks outside of the container, using gloves and disposable cleaning rags. Double-check the potential toxicity of an item before touching it with your hands.
2. Clear Your Data
We do so much on our phones and computers. Anything that once had financial or personal information needs clearing of any data. If you can't access the data because the item has too much damage, then talk with the professionals at your e-waste disposal site.
3. Organize Similar Items Together
After the hazards, make sure to organize the items as well as you can. This means putting together similar products, like phones with phones. You also should keep all the individual pieces of a single electronic together. Any cords or batteries that went with the electronics should go together. This helps the e-waste pickup attendants to make the process smooth and simple.
Finding An E-Waste Pickup Site Near You
Now that your items are safe and in one place, where do you take it? Finding the right retailer or government facility that can take e-waste can be time-consuming. Instead, trusting to a specialized e-waste disposal company like us at IntelliShred helps you know where you can go. We have locations in New Jersey and beyond, each armed with the best tools and personnel on hand to get rid of your electronics and any sensitive data left on them.
Getting The Best Disposal With Intellishred
When you are replacing your next tech gadget, you now know the best way to get rid of it safely, securely, and quickly. Find your nearest e-waste pickup site and get back to enjoying the best in electronics. For all of your questions, from site locations to the best waste organization, we at IntelliShred are happy to help. Contact us today for more information.