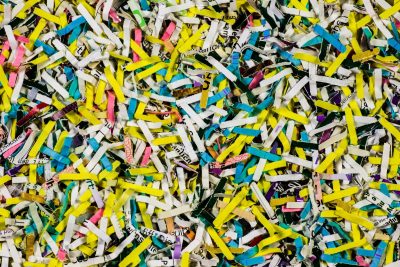 You've been in business for several years now. And your pile of "important documents" is proof of that. Of course, many of those documents are now outdated and no longer needed. And that means it's time to having a shredding party. The good news? You don't have to be the one to throw the party. Instead, you can leave that task to a document shredding party, thus freeing up your time for more important tasks related to your business.
Maybe your business needs to shred large volumes of documents, or maybe you need to prevent data breaches. Either way, here's a rundown on the benefits of paper shredding in Montgomery County, PA.
Document Shredding Benefits
A local shredding service offers the benefit of saving you valuable time. That's because paper shredding is actually a more time-consuming process than it might look like on the surface.
First, you have to remove staples and paper clips. Then, you have to straighten your paper sheets. Afterward, you must clean up your paper particles and dispose of your shredded paper. Finally, you have to dispose of your shredded paper.
If you're the one handling all of these duties, this will suck valuable time away from other important business management tasks. Or, if you assign this task to one of your employees, they won't be focusing on generating money for your company during this time. With a paper shredding company, you can boost your own productivity as well as your staff's. And this is exactly what you want for your bottom line.
Additional Benefits of Document Shredding Services
Another essential reason to hire a document shredding service? They'll help you to uphold your obligation to keep your clients' information private.
The FACTA, the HIPAA, and the GLB Act all enforce standards related to maintaining the privacy of patient or client information. Part of this process is disposing of people's sensitive information properly.
Fortunately, a shredding service can help you to destroy sensitive information in a manner that complies with today's privacy protection laws. On top of that, receiving a destruction certificate can serve as proof that you destroyed your clients' information, as well as when and how you did it.
If you fail to shred your business's important documents properly, this could do damage to your company's reputation. That's because your information might end up in the wrong person's hands. This, in turn, may cause your clients or patients to stop trusting you.
After all, in today's social media world, it's easy for news of a privacy breach to spread like wildfire. With a professional shredding company, you can rest assured that your documents will be destroyed according to strict procedures every time.
Additional Considerations
In some states, statutes forbid businesses from recycling essential documents for specific amounts of time.
As an example, you may have to hold onto your employees' pay stubs for one year or more before shredding them. This is important to make sure that the stubs match their W2 forms for tax filing. Likewise, if you issue a credit card statement, you shouldn't shred the statement until 45 days after you issued it.
If you hire a paper shredding service, they can help you to remain in compliance with such requirements while shredding your documents. They'll help you to determine the most appropriate times for getting rid of your confidential information in a secure way. Finally, when you choose to use a paper shredding service, you could say that your company is essentially a "green" business. Why?
Because recycling papers contributes to creating a healthier planet. By using a company to destroy your papers and recycle them for you, you can easily reduce your carbon footprint. It's one of the easiest ways for your business to take part in today's popular eco-friendly movement.
How Paper Shredding in Montgomery County PA Takes Place
To maximize security, we don't ask you to risk moving your confidential information. We don't remove it from your location either. Instead, we come to you at a scheduled time and destroy your paperwork on-site.
When you work with IntelliShred, you will receive one or more of our secure containers. Your staff will fill these, until one of our representatives arrives to take care of the documents. He or she will take your documents to our mobile shredding vehicle. We invite you to watch the destruction process as it happens via CCTV.
Not only can you watch the destruction of your confidential information, but we will provide you with a Certificate of Destruction. This will detail how much we destroyed and when. Displaying or providing this document can be a good way to reassure your clients that you care about their security and that ensure the safety of their information.
There are many reasons to destroy your confidential information with Montgomery County PA paper shredding.
Remove the need for cumbersome storage containers. Some of our clients have freed up valuable real estate by getting rid of confidential information rather than storing it.
Remove the doubt over what would happen if the confidential information should fall into the wrong hands.
Changes in the law may require your business to destroy confidential information fast.
Destroying documents can help a business protect its ideas and trade secrets
Whatever the reason, you can rely on IntelliShred to provide prompt and professional Montgomery County PA paper shredding. Satisfaction is 100% guaranteed.
More and more Montgomery County PA businesses are taking their data security responsibilities seriously. Doing so doesn't have to be difficult. By working with IntelliShred, you can customize the scope and frequency of your document destruction.
Our Montgomery County paper shredding services are flexible enough to be customized for you and your staff. Typically, our representatives can visit your premises bi-weekly, weekly, or monthly. If you require a different schedule, just let us know what we can do for you.
While many of our clients decide to use our regular scheduled document destruction service, we also offer one-time shredding or purge shredding. This service has been especially useful for businesses performing annual cleanup of documents, moving locations, or responding to changes in legislation.
If you would like to talk with someone about what constitutes confidential information and what needs to be destroyed, it's our business to understand the legislation. We will be happy to guide you regarding legal considerations.
Some businesses choose to simplify the protection of their clients by routinely shredding all paper documents, rather than identifying only the truly critical, confidential data. The latter approach tends to be laborious, puts a lot of responsibility onto individual staff, and opens the door to human error. This is why many businesses we work with opt for a shred-all approach. And this does not have to break the bank. Our efficiency could save your business money; our reliability could save your business.
Whichever service you need and for whatever reasons, you can rely on us to get the job done. We have a proven record of reliable paper shredding in Montgomery County PA. Get in touch with us today so that we can provide our expert paper shredding services for your Montgomery County business and help keep you and your clients secure.