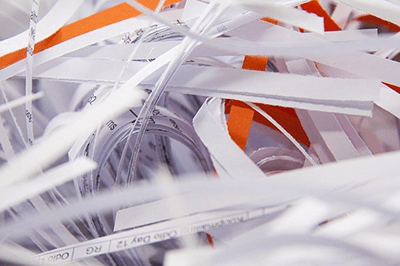 Data breaches are not only caused by electronic records but also often by improper care taken with physical records. A second important myth to bust is that they do not only affect large companies but also smaller, local businesses. The good news is that IntelliShred provides professional and high-quality local shredding services for NJ businesses at an affordable rate.
NJ businesses require shredding services because the loss of sensitive or confidential information risks customers and clients. If customers discover that their details are not secure, this can lead to distrust and loss of business. It can cause loss of reputation from which many companies never recover. Rather than risk this problem, we believe it's much better to protect your business, customers, and clients with local shredding services.
Paper Shredding For NJ Businesses
Many local businesses think that they are not targets for crime perpetuated by this kind of criminal. The truth, however, is that businesses of any size and in all industries are at risk from fraud and identity theft if they are not taking precautions. The proper precautions include securing electronic storage devices, but also dealing appropriately with hard copies, such as by using local shredding services.
When it comes to destroying physical documents, shredding is the most effective way to ensure they will not fall into the wrong hands. And we make it even harder for unauthorized people to access your confidential papers by providing secure containers for your staff to use and by shredding your documents at your location. We don't charge transportation fees to remove your documents and we can even destroy the documents in front of you. We invite you to watch the process via CCTV as it takes place in a mobile shredding truck.
Our local shredding service is as flexible as you need and always as secure as required by the law. Regardless of your industry or business size, you can expect to be treated with the highest quality service. Our professionals will arrive promptly and will take care of your documents to make them 100% irrecoverable.
Some Of The Benefits Of Working With IntelliShred
Certificate of Destruction
We are the firm to trust if you are looking for reliable, local shredding services to take care of data protection worries. To help our customers sleep better at night, we provide a Certificate of Destruction. This confirms how many documents we shredded and that we did so safely and securely. Producing this document is an excellent way to reassure your existing or potential customers that you are serious about the security of their information.
One-Time or Purge Shredding
If you need to shred a lot of documents in a hurry, you've come to the right place. We understand that there are many reasons our clients might require one-time paper shredding. Often, a business is relocating or wants to re-organize. Changes in the law can also necessitate immediate paper shredding on a large scale. Or you may be protecting trade secrets. Whatever the reason, if you want it gone, never to return, please give us a call.
Regular Local Shredding Service
Whether you have one small business or a chain of businesses, we will provide high-quality service if you need secure document destruction. Our service is customizable, so you can schedule bi-weekly, weekly, or monthly local paper shredding. To discuss other options to suit your business needs, get in touch with our helpful staff.
Our paper shredding services for local, NJ businesses are flexible, fast, and fairly priced. Please get in touch with us to let us know the extent of your paper shredding requirements and we will let you know how we can help.