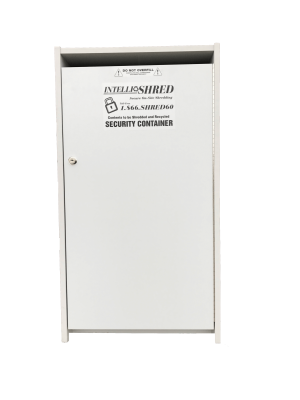 Paper Shredding Bins
In any organization, important paper documents tend to accumulate over time. At some point, their use will expire and they will need to be disposed of or destroyed. Most companies assume that it's less expensive to purchase a small office shredder and do their own shredding, but there are other major costs associated with that choice.
The best solution to this paper problem is to purchase lockable paper shredding bins and contract with a professional shredding and destruction service. When you have several hundred pounds of paper to shred at once, it makes sense to collect it in a safe and secure way and then have it shredded more efficiently.
Locked paper shredding bins can be strategically placed in an office to help manage the collection of confidential paperwork. This sensitive material goes directly into secure bins so that it does not get into the wrong hands. When it's time, these documents are collected from the special tamper-proof containers and shredded by a mobile shredding truck on-site, safely and securely.
Lockable paper shredding consoles are a smart, efficient and cost-effective way to demonstrate that your company places a priority on protecting information. Choose the appropriately sized console to help you build a safer and more productive office environment.
Why not use a small office shredder instead?
When you buy a small office shredder, the process becomes more costly and is not as safe or secure. First of all, you'll need to have an employee operate the shredder, and that takes time away from their productivity. Secondly, the more you use the shredder, the more it will deteriorate and become less dependable. With time, it will also jam more often and need maintenance or repairs.
When the documents you're not shredding pile up and are not stored securely, it creates a huge security risk. With hiring a purge shredding service, you have the peace of mind that your confidential information is properly destroyed and disposed of.
You are hopefully confident that your employees are trustworthy, however, there's always a chance they may accidentally discover confidential information if it's not stored properly. That's why having a locked paper shredding bin is more secure – it will help avoid this issue.
Remaining compliant with HIPAA regulations
In order to remain HIPAA compliant, the law requires certain documents that contain personal or sensitive information to be completely destroyed. By keeping this information locked in paper shredding bins, you help your organization avoid thousands of dollars in penalties and fines.
Hiring a professional shredding service will help protect the information you're responsible for keeping. Employees can simply drop any sensitive documents in the bin and when it's time to shred, the qualified technician will remove it in the proper fashion. The paper will be dumped into the hopper of an industrial truck-based mobile shredder and then seconds later it will be destroyed. When the shredding job is complete, the technician will issue a certificate of destruction as proof of HIPAA compliance.
It's always recommended that companies put procedures in place to handle sensitive documents with confidential information. Part of that includes purchasing locked paper shredding bins to collect it all.
IntelliShred can help destroy your paper documents in a safe, secure manner. We have storage bins of all sizes available for our customers use. Please contact us today to learn more about our shredding and destruction services.