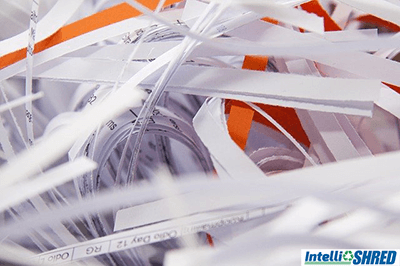 Purge Shredding
Purge shredding is something that every business and organization should participate in. It's usually a once a year event when large volumes of paper documents and electronic records are shredded and destroyed.
These shredding purges don't usually occur on a regular basis, but typically take place when there are dozens of pounds worth of paper to shred, and it's not feasible to shred it on your own. Shred purges are often annual events, but one-time shredding purges can be requested whenever there's a larger amount to be shredded.
Every company may need to purge – especially if:
end-of-year or quarterly archive activities uncover documents that are past their retention date
your company or organization moves to a new location with less space to store the information
a merger or acquisition makes those documents or information obsolete
Typically, purge shredding is always difficult to execute using a small home or office shredder. Hiring a professional shredder may cost a little more, but it will definitely be more efficient and allow you to be more productive with your time, saving you hours of frustration. Professional shredding services are equipped with industrial strength shredders that can handle enormous volumes of paper and even secure e-waste disposal.
Purges can happen in two different ways – there are mobile shredding services that come right to your door and allow you to supervise the process, or you can select off-site shredding services that transport your documents to a secure off-site facility for shredding.
There are several reasons why purge shredding is so important:
It helps your company remain compliant.
Your organization could be violating privacy laws by either holding on to documents or simply throwing them in the trash. Currently, there are federal and state laws in place that govern how confidential information is collected, stored, and disposed of. It's necessary to know the applicable regulations at local, regional, and federal levels to make sure you comply. Purge shredding can help eliminate any risk of penalties or fines for not remaining compliant.
It helps reduce human error
A one-time clean-out helps eliminate erroneous mistakes and errors with paperwork. A workplace that is cluttered and untidy is not efficient to work within. Paper clutter is very distracting to employees and can cost them to make errors that they would not have made otherwise. A recent statistic states that employee actions/mistakes accounted for 32% of data breach incidents.
It enhances identity theft protection.
Outdated paper files with confidential information, obsolete emails on computers, and sensitive information stored in digital media devices could be the perfect way for information thieves to wreak havoc. Physical safeguards can definitely help somewhat, but to be more confident with your level of security, it's best to purge shred once a year. It's also recommended that you put a comprehensive policy for regular collection of confidential information within your office.
It provides immediate proof of proper destruction.
When you decide to hire a professional service provider for purge shredding, they will issue an official Certificate of Destruction. This certificate confirms that your materials have been destroyed safely, and according to the privacy laws such as the Gramm-Leach-Bliley Act (GLBA) and the Health Insurance Portability and Accountability Act (HIPPA).
It offers secure document management.
There are documents that should never be left in easily-accessible office areas, because they contain personally identifiable information. It's wise to create an official document management process within your organization. By having a process which oversees the workflow, storage requirements, and data retention within your company, you can prevent documents from being mishandled, or lost.
Usually a one-time purge can help you significantly declutter and organize your office space. It's important to do this so that your business can run more efficiently, but the other reason to do it is to avoid the risk of theft. If there are documents that hold sensitive or confidential information that are just lying around in the open, it's possible they could get into the wrong hands. Identity theft and data breaches could end up costing your company thousands of dollars in legal fees, fines or penalties.
It's crucial to find the right purge shredding and destruction service for your needs. Your important documents should be trusted to a reputable, trustworthy service with years of success in the industry. IntelliShred has spent years providing safe, secure shredding and destruction service to thousands of loyal customers. Contact us today to learn more about how we can help safeguard your information.