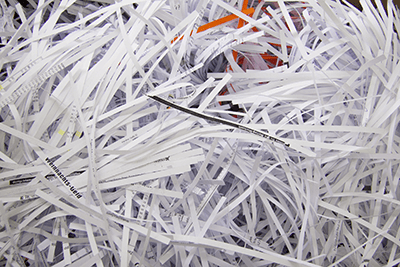 Data breaches are a very real threat to companies. Even before the internet became a common tool for the general public, criminals have been stealing sensitive data from both individuals and businesses alike. In fact, publicly-disclosed data breaches saw a huge increase in the 1980s.
You'd think that fraudsters focus solely on digital data now. But the fact is, many still prey on paper data.
So you must be diligent in disposing your papers properly, or else you risk your information falling into the wrong hands. For that, you can get your papers taken care of by paper shredding companies.
Want to learn more about the benefits of using a paper shredding company? Then read on. We'll show you everything IntelliShred can do for you!
We Come to You
You might be concerned that you need to take precious time out of your business day to bring documents to shred to a professional company. However, that won't be a worry when you work with IntelliShred.
We offer on-site shredding services so you don't have to be concerned with transporting your documents in a safe and efficient manner. We'll come to you with security containers on our mobile shredding trucks, which will reduce the chances of your documents ending up in the wrong hands. Y
our papers will go directly from your employees to ours. This not only ensures better security of your documents, but it also saves you time.
At the end of shredding, we'll provide you with a Certificate of Destruction. This proves that we've shredded and destroyed your papers in a safe and secure way. You can use this certificate as a unique selling point (USP) for your company, which can then give you a leg up on your competition.
One-Time Shred Purge
Have you come across a situation where you urgently need to shred a large volume of documents in one go? Then don't stress, as we can do that for you!
This type of service is perfect for cleaning up your files on an annual basis or when you're going through corporate reorganizations. It can also be ideal right after you've settled a legal issue and need that private data securely destroyed.
Regular Shredding
On the other hand, IntelliShred can also come regularly to shred papers so they don't build up. We'll come on a schedule of your choosing so it'll be most convenient for your business. It can either be weekly, bi-weekly, or monthly, depending on your needs.
You can also count on us to always be punctual, whether it's a one-off job or regularly scheduled appointments. This will minimize disruption during your business day so you can be as productive as possible.
Other Benefits We Offer
You've seen that we can come on a one-time or regular basis. But what else can IntelliShred do for you and what sets us apart from our competition? Find out below!
Decades of Experience
IntelliShred has been serving the Tri-State area ever since 1999. This means we have over 21 years of experience, which means we've streamlined the process to not only be as efficient as possible, but also as secure as possible.
We understand that these documents hold some of your business's most private data. This is why we'll always treat it as if they were our own.
Complete Professionalism
Handling sensitive data requires the highest ethical standards. This is why IntelliShred has received our AAA Certification for shredding, which is the highest security rating possible. Also, we're members of the National Association for Information Destruction (NAID).
We are so confident in our ability to shred your documents that we guarantee that your information is 100% irrecoverable.
Document Destruction Video
When other companies shred your documents, how can you be sure that they're actually doing what they're claiming to do?
For your peace of mind, we offer an active video screen on our mobile trucks. That way, you can stand outside the truck and watch in real-time as we destroy your papers. In fact, we encourage you to witness this, as it'll help give you peace of mind that your papers are truly shredded.
Proprietary Handheld Scanners
To further secure your documents, we have come up with proprietary handheld scanners. These allow us to have complete control over the entire shredding process, as it enables us to have secure tracking for all papers we handle.
These are iPhone-based scanners that let us re-route if necessary. As a result, we can dispatch more trucks to more locations if needed.
Punctuality You Can Count On
Earlier, we said that you can count on us to always be punctual. You can definitely hold us to that, since we guarantee we'll always be on time.
If we're not, or if we miss your appointment for any reason, then we'll shred your documents entirely free of charge! Do note that this is only for regularly scheduled services and not one-time shredding jobs.
Experience the Benefits of Paper Shredding Companies for Yourself
Now you know all about the benefits that paper shredding companies can offer you. In particular, IntelliShred offers professional and reliable services, plus we arrive in a timely fashion. We also have the credentials that prove we can handle all documents in a secure fashion.
Considering we guarantee our shredding services, we are one of the best commercial shredding companies you can turn to in New Jersey, New York, and Pennsylvania. So for convenient on-site, full-service document shredding, IntelliShred is the shredding company you need!
Would you like to get in touch with a paper shredding business that can give you these benefits? Then contact IntelliShred now.