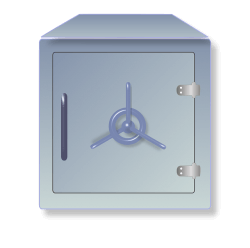 Secure Records Storage
Your business documents are of critical value to the success of your company; therefore they should receive the utmost protection available with secure records storage. Storing sensitive documents on-site at your New Jersey office is a risky decision for several reasons; should your building experience a flood or fire, your records will be entirely destroyed. Identity theft is another aspect to consider, as even while awareness is on the rise, identity theft cases continue to occur.
At IntelliShred, neither of these concerns are an issue. We securely store your documents offsite, at our monitored, state of the art facility in New Jersey. For your safety and convenience, we implement a bar coding system which assures quick retrieval if necessary. Plus, we'll deliver vital documents to you if the need arises.
New Jersey's largest city, Newark, experiences a climate that is greatly influenced by the city's proximity to the Atlantic Ocean. Winds, mostly easterly and southeasterly, can moderate temperatures, which vary from very high in the summer, to extremely low in the winter.
All of us in the Newark region are aware of how vulnerable we are to the elements. We are particularly prone to winter storms which blow off the ocean, and bring high amounts of snow and rain. A standard storage unit or office may not supply efficient protection for your documents. Turning to a professorial provider such as IntelliShred, will ensure that your documents are contained in a safe place, away from any outside risks.
IntelliShred provides secure records storage to the following locations In New Jersey:
Newark
Princeton
Morristown
Somerville
Jersey City
Paterson
Elizabeth
Toms River
Edison
Trenton
Camden
Clifton
Cherry Hill
Passaic
East Orange
Union City
North Bergen
Irvington
Additional benefits of secure records storage with IntelliShred in New Jersey:
Protects Your Staff – Storing your confidential employee documents in our Newark facility, guarantees that their information is kept entirely safe and secure, deterring any chance of identity theft or even dumpster diving identity theft.
Protect Your Clients, Customers and Patients – IntelliShred is currently trusted by many healthcare providers in the Newark region, as well several other businesses from a variety of industries. Regardless of your particular industry, your documents will remain secure until you are ready to retrieve them again.
Save Time – Our IntelliShred location in Newark can save your company time and money. If you need immediate access to your files, they can be delivered, faxed, emailed or you can securely access them from any computer that has an internet connection.
Save Money – Did you know that renting more office space to store your documents is up to 80% more expensive than storing records in our Newark facility?
IntelliShred provides secure records storage in Newark. We can help to reduce the costs of regular storage and protect your Newark business from any potential natural disasters.
If you are located in New Jersey or Pennsylvania and have document destruction, paper shredding, or document management needs please call us today at 1-866-747-3360 for a free price quote.