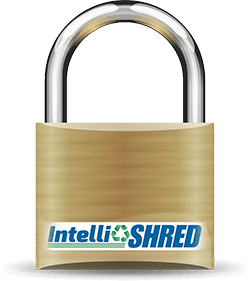 Secure Shredding
There are so many secure shredding and destruction services out there, ready and able to work. So exactly how do you know which one is right for your company? There are several questions you will need to ask yourself before you make your choice.
Exactly how much paper do you have to shred?
This will be the first question any secure shredding company will ask. It's essential that you review your confidential and sensitive information on a regular basis to take stock of what you have. Then you'll be able to better estimate what needs to be shredded or destroyed. Most of these companies will lower their prices if you have a larger volume of paper to shred or destroy. It's easy to measure by whether your paper fits into a recyclable grocery bag, a banker box or a large file box. On average, a recyclable grocery bag will hold about 10-25 pounds or 100-1500 sheets of paper. A standard banker box holds about 30-35 pounds or 2,000 to 5,000 sheets of paper. A large legal file box holds around 50-60 pounds or 4,000 to 5,000 sheets of paper. For a comparison, our shred containers hold between 100-350 pounds of paper.
How do you want your documents shredded?
There are several factors that are dependent on how this question is answered. First of which is how much you have to shred, second is how much you want to pay, and third is the timeframe in which the job must be completed. There are three main methods of shredding and destruction, but depending on your needs, you may find one of them most ideal.
Drop-off shredding — Some secure shredding companies allow you to drop off your documents at their warehouse. Your documents will be stored in a secure area in a locked container until they are shredded. Typically, with this method, you will pay by the pound, by the box or by the bag.
Off-site shredding — If you choose this method, the secure shredding company will visit your location and haul your documents away to a shredding facility. It's uncertain in what timeframe they will be shredding your documents. It usually depends on when they have enough volume of paper to warrant operating their equipment. Although this is a cheaper option, it is definitely less secure than mobile onsite shredding. Having your information unmonitored can make your business vulnerable to theft before they are shredded.
Mobile shredding — With this method, secure shredding services are executed on a mobile shredding truck that has an onboard, hydraulically-powered shredder with a chute. The truck will drive to your location and will shred your documents on site. Because the amount shredded is typically larger than the other methods, the price is lower per pound. The true benefit is that you would be able to witness your sensitive information being safely and securely destroyed.
What level of security are you looking for?
One of the most crucial factors when comparing shredding companies is their level of security. Whichever service you choose, be sure to find one that is NAID certified. The NAID is the National Association for Information Destruction. When these service companies carry this certification, it implies that they are compliant with all shredding laws and standards as observed by NAID. This organization randomly audits its members to determine compliance.
In order to make this decision, we hope you will weigh the information we have shared with you. Our customers continually choose our experienced secure shredding team to help shred and destroy their confidential information. We're here to answer any questions you may have about our services – contact us today!