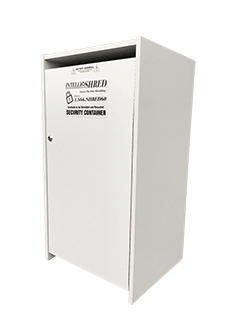 Do You Need Shred Containers?
A company's future success depends on many smart business decisions over the course of its lifespan. Although most choices are made with short-term cost savings in mind, there are a few with significant long-term savings that should be considered. For example, hiring a professional shredding service and purchasing secure shred containers should be essential for every size business.
No matter the industry or type of business you're in, you will definitely need to remain compliant with privacy laws. If confidential information that exists in document form is not properly destroyed, it can get into the wrong hands, which would make your company liable for identity theft.
Small office shredders cannot adequately destroy your documents with sensitive data, so hiring a professional shredding service is always recommended. Small office document shredders tend to have many flaws, leaving your business at risk for legal issues.
Hiring a shredding service keeps you from having to train your staff on what needs to be destroyed and what doesn't. Typically, a shredding company will also give you a certificate of destruction to prove the information was properly destroyed, ensuring the privacy of your clients.
There is another smart purchase every company can benefit from – secure shred containers. There are two types of shred containers, the first is only meant to collect on a daily basis, and the others are meant to store paper for longer periods of time, ideal for bulk shredding.
Shredding Console
This storage container is as large as a recycle bin, but its design is more attractive for the office environment. There's usually a mechanism for locking and it typically holds 100 pounds of paper.
Secure Shredding Bin
This size shred container holds just over 350 pounds of paper, and its strong security ensures that confidential documents are easier to contain and transport.
There are regulations which govern secure shred containers – the guidelines exist under American National Standards. Buying high-quality bins is important, because inferior plastic bins will have a significantly shorter lifespan. There are several manufacturers which produce high-quality resin, injection-molded, shred containers. Regardless of which type of bin you use, you should be sure to purchase some kind of storage for confidential documents. Your shredding service provider can also recommend which one is best.
IntelliShred provides both mobile shredding services and secure shred containers for businesses. Our state-of-the-art trucks come directly to your location and destroy your hard drives and other materials on site. We are committed to saving the environment, so we can deliver destroyed materials to the proper metal and electronics recycling center.
We are certified by the National Association for Information Destruction (NAID), a trade organization which provides a voluntary certification program for member companies that provide information destruction services. IntelliShred has earned the NAID's AAA Certification and we only send electronic waste to certified e-waste recycling companies that comply with federal and state regulations.
We're happy to serve our customers – contact us today for more information on our services.