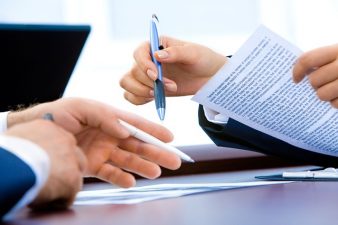 Shred Business Documents
Every business collects sensitive information from their customers, partners and employees. For some businesses who still utilize paper, certain documents should be destroyed when they're no longer needed. There's a significant risk of identity theft when you don't shred business documents and they end up into the wrong hands.
Most businesses are aware of how important it is to keep their records and paperwork secure. Keeping certain documents for long periods of time is not recommended. There is a significant risk of fraud or theft of this sensitive information.
Typically, government agencies, large businesses, and corporations must abide by strict regulations regarding how long to keep certain documents. Smaller businesses and consultants do not always have rules imposed upon them when they choose to shred business documents. To protect your company from risk it is best to determine what you can dispose of and what you should retain.
There are countless situations we encounter in our daily work that require documentation. For better management, it's best to develop a shred/no shred system for employees to follow so that everyone can remain efficient and not waste valuable hours down the road. Some businesses are unsure of what type of documents they should shred.
Here's a chart of business documents which are recommended for shredding:
| | | | |
| --- | --- | --- | --- |
| Account Records | Financial Statements | Obsolete Contracts | Sales Forecasts |
| Audits | Health Insurance Forms | Payroll Records | Social Security Numbers |
| Bank Statements | Insurance Records | Phone Records | Tax Records |
| Client Lists | Inventory Records | Photographs | Training Information |
| Confidential Correspondence | Invoices | Purchase Receipts | Training Information |
| Credit Card Information | Legal Documents | Receipts | |
| Employment Applications | Market Research | Resumes | |
| Estimates/Bids | Medical Records | Research Information | |
For those businesses that generate huge amounts of paper daily, it is even more essential to shred business documents.
It's important to shred business documents that are old or unnecessary, or other media that contain sensitive information. Whether it's a one-time shredding service, or a regularly scheduled shred for your business, Intellishred has a variety of shredding solutions. Contact us for more information on our secure, safe, and reliable mobile shredding services.