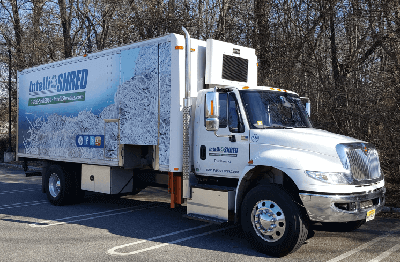 In the digital age, there is sometimes still a need to use paper documents for interacting with your customers. Because this results in a large buildup of paper, shredding often becomes a necessity. There are strict laws in place which require you to destroy client data, transactions or other sensitive information after a certain amount of time. These documents should always be handled and destroyed properly to prevent any information leaks and identity theft.
The most convenient and precise way to get rid of this paper is to hire mobile shredding services. Here are the main benefits of hiring such services:
Productivity
When you operate a business of any size, every minute of the day is important for maximizing productivity. After all, time is money. Thus you don't want to waste any more time than necessary on tasks like shredding documents. Fortunately, a mobile shredder service can handle the job quickly and efficiently so that you won't have to. There is no need to burden your staff with in-house shredding, compiling and transferring documents into bins and ultimately in small shredders which cannot handle high volumes. When you have mobile shredding services come to your door, your employees won't have to stop their focus on the daily workload.
Convenience
Hiring a mobile shredding service is also much more convenient than hauling the documents to another location or disposing of them yourself. Again, this is especially true when your small business generates a significant volume of documents that will eventually need to be destroyed.
A mobile service will come to you and take care of your documents so that you can focus your time and energy on more important matters. And there's no reason to worry about your documents falling into the wrong hands because a mobile service will destroy them right before your eyes.
Cost Savings
When it comes to shredding documents, you need to have the right equipment to get the job done effectively and efficiently. This can be costly, especially when you consider the expense of equipment, the time it takes to shred the documents, the space required for shredding, and the inconvenience of storing the waste until it can be removed from your office. This is especially important when you need to dispose of a high volume of documents regularly.
Mobile shredding services are more cost effective because:
Shredding onsite saves money on transporting to a facility
Video monitoring provides an exact volume of shredded items
Compliance with Industry Regulations
Every small business must comply with specific safety and security regulations set by governing organizations within their industry. This includes the protection of customer and client information. A mobile shredder service provides the peace of mind of knowing that all sensitive documents have been properly destroyed.
Eco-Friendly
Paper still has an extremely high usage in daily business and mobile shredding services are 10x more efficient than doing it the old-fashioned way. It's no secret that more and more companies are taking great strides to protect the environment. This includes recycling their paper documents. When you hire a mobile shredder, the materials will then be recycled rather than dumped in a landfill, ensuring that waste is kept to a minimum.
It's Not Limited to Paper Documents
Your primary concern might be the paper documents in your office, but you can shred just about anything that might contain private information. This includes floppy disks, CDs and DVDs, microfilm, microfiche, and even video cassettes.
Safety Of Information
Whether it's paper, hard drives, or other sensitive information, mobile shredder trucks can instantly eliminate the risk of information being reconstructed. Right before your eyes it's securely destroyed and the truck will provide documentation for every shred they do.
Protect Your Customers and Clients
When you hire a mobile shredder service to protect your clients and customers, you're protecting yourself as well. If there were ever a data breach or hack that led to the release of private information, you would be held liable for it. This is especially important as more companies adopt stringent compliance regulations such as GDPR (General Data Protection Regulation) and PCI (Payment Card Industry).
Mobile shredding services are able to not only destroy in bulk but also in the privacy of your office. This helps you meet compliance regulations to keep your customers' and clients' private information secure while simultaneously protecting your business.
Improve Customer and Client Relations
You don't want to destroy your relationships with customers and clients because you failed to provide them with secure storage. When you hire a mobile shredding service, they will come to your office and safely dispose of the sensitive information you no longer need. This includes:
Shredding documents in an environmentally friendly way

Providing a secure way to protect your confidential information

Compliance with specific safety and security regulations within your industry

The peace of mind and comfort that comes from knowing that all sensitive information has been destroyed in a secure environment
Quick and Efficient Shredding
Mobile shredding services can provide on-site destruction on a grand scale while meeting stringent compliance regulations. This helps guarantee all sensitive information is quickly and efficiently destroyed before being recycled.
Your clients and customers will appreciate the extra step you took to protect their information. They expect safe storage and a quick response time when it comes to removing anything that contains sensitive data. This is your chance to show them how much you care about their privacy and show them you take it seriously.
You get a certificate of destruction once all sensitive information has been successfully shredded. This can be submitted to any necessary parties and provides additional evidence that data is destroyed. If there is any reason why you would need to provide proof that sensitive information has been destroyed, having a certificate of destruction is the only way to do it.
A Small Business Owner's Guide to the Benefits of Mobile Shredding Services
Running a business isn't easy. That's why you need all the help you can get for keeping information safe and secure. Fortunately, this guide to mobile shredding services shows that destroying old documents doesn't have to be expensive or complicated.
Intellishred's mobile shredding services have been helping customers destroy and recycle paper, floppy drives, CD's and DVD's, Video Cassettes, Microfilm, Microfiche and more. Contact us today and let us help you purge your business materials. Please contact us to learn more about our document shredding services and to get a quote for your small business.