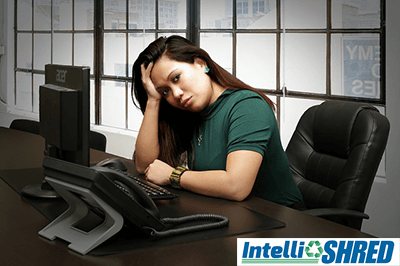 Handling Confidential Information
In today's information age, every business should be knowledgeable about handling confidential information. No matter the industry, size or scope that the company works within, there should be comprehensive information disposal process put in place.
These are the top five mistakes companies make with handling confidential information:
MISTAKE #1 Not controlling employee access to confidential records
Whether it's paper documents or information that is stored digitally, it's crucial to control access to it by using passwords, firewalls and encryption. When passwords are used to control access, they should be changed on a regular basis. Although we live in a mostly digital world, some businesses still deal with a lot of hard copies. In order to safely and securely store confidential paper documents, you should have lockable storage cabinets available that are only accessed by certain employees.
MISTAKE #2: No policy in place to protect confidential records
There's an easy way to diminish the risk of experiencing a data breach. Simply establish a policy that dictates exactly how long your business should store confidential documents or records. It's not recommended that confidential files are kept for longer than they are needed because that could increase your company's risk of a data breach or identity theft.
MISTAKE #3 Not properly training employees on how to handle confidential records
It's simple – make sure your employees know what risk they could face if they don't learn how to handle the confidential information that your company stores. It's essential to explain why data confidentiality is so important and offer them the many ways they can protect it. Teach them how to use secure passwords, make them follow a process for secure hard drive destruction, shredding and destroying documents or information storage devices and most importantly, explain the consequences of not doing these things. It's very practical to train your employees in-house, but you can hire professionals to help you as well.
MISTAKE #4: Using store-bought shredding machines to shred paper documents
There's nothing that compares to the efficiency and accuracy of a professional shredding service. Store-bought shredding machines are not equipped to handle large volumes of paper at one time and before you shred, you must remove staples and paper clips. These machines also require constant maintenance because they frequently jam and break down.
MISTAKE #5: Not hiring a professional shredding company
Hiring a professional shredding company for the disposal of confidential information is the best solution. It's important to choose a vendor with a strong reputation and good references that is certified by the National Association of Information Destruction (NAID). They should have received proper AAA certification, which proves they are working within the highest ethical and professional standards.
Hiring a professional shredding company will give you the peace of mind that you've properly protected the confidential information you store. IntelliShred provides full-service document shredding and destruction on site, and offers daily, weekly, monthly, service packages. We can help you protect your business – contact us today to learn more about our services.