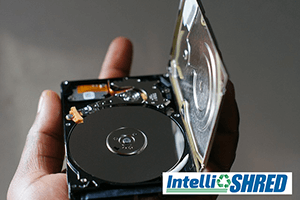 Secure Hard Drive Destruction
Most people might assume that destroying their hard drives is as easy as burning them, chopping them up into pieces or crushing them in a hydraulic press. Although it may make logical sense, the reality is that the information stored on those drives you've shattered to pieces can still be stolen!
Here are some important steps to take for secure hard drive destruction or when destroying other information storage devices:
#1 Leave Destruction to the Professionals
The headache of secure hard drive destruction is best left to a professional shredding and destruction service. In order to ensure that it's done properly and in a compliant fashion, it's best to hire a service with years of relevant experience. Whether it's hard drives, they're in your desktops or laptops, tablets or smartphones, it's essential that you maintain compliance with the constantly changing e-waste regulations.
According to a recent Department of Health and Human Services report, data breaches in the health industry due to improper disposal of e-waste are becoming more common. Make sure your vendor can guarantee that your drives are completely destroyed—and that their data is unrecoverable.
#2 Know That Hard Drives Exist in Most Technology
It's hard to remember that hard drives are embedded in most technology – everything from laptops, to tablets to video game consoles. When it's not exactly sure what items need to be destroyed, a trusted secure hard drive destruction service will help determine how to select your e-waste shredding.
#3 Get Proof That Your Confidential Information Was Destroyed Properly
Most shredding and destruction services will provide you with a certificate of destruction. This document states that the data stored on your hard drive has been properly erased and all of its hardware has been disposed of. This is proof that you are in compliance with the official information security regulations in your state.
#4 Recycle Remainder of Plastics and Metals to Save the Environment
The latest report from the EPA states that Americans toss between two and three million tons of electronics every year. There is so much e-waste that it ends up being dumped into huge landfills in West Africa. There are definitely high-quality professional shredding and destruction services which will ensure that no toxic materials end up in landfills or are exported to other countries.
IntelliShred provides clients with on-site mobile shredding and secure hard drive destruction services. Our advanced mobile shredding and destruction trucks will come directly to your location and destroy your hard drives and other materials. We can guarantee your hard drives will be properly destroyed before being discarded. We're also committed to saving the environment, so we will deliver any recyclable materials to the proper metal and electronics recycling center.
IntelliShred has earned the NAID's AAA Certification and we only send e-waste to certified recycling partners that comply with federal and state regulations. The National Association for Information Destruction (NAID), is a trade organization which provides a voluntary certification program for member companies that provide information destruction services.
Contact us today for more information on our services – we're happy to answer any questions you may have about shredding and destruction.