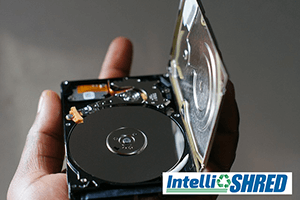 Secure hard drive destruction services should be your priority as a business, but even as an individual. It's easy to find an answer to "how" but are you ready to know why you should wipe a hard drive (HDD)?
Most people might assume that destroying their hard drives is as easy as burning them, chopping them up into pieces or crushing them in a hydraulic press. Although it may make logical sense, the reality is that the information stored on those drives you've shattered to pieces can still be stolen!
Here are 5 reasons to use secure hard drive destruction services:
1. It Helps Keep Your Identity Intact
In 2019 alone there were a reported 3.2 million cases of identity theft and fraud. The same source cites data breaches that affect hundreds of millions of people—if not over a billion! If you're a corporation, you owe it to your customers not to let their data out into the wild.
The cause of many of these breaches is social engineering using "spear phishing" or digital dumpster diving of discarded hardware (like hard drives) for corporate information.
2. Ecological Responsibilities
No federal laws set by the EPA doesn't prevent states from enacting and enforcing hefty fines themselves. The National Conference of State Legislatures does outline strict adherence to laws put up by 24 states—half of the lower 48. Why does it matter?
Lead, Mercury, and Cadmium are only three of many heavy metals and toxic elements in electronic waste—HDDs included.
3. The "Delete" Function Doesn't "Destroy"
It might surprise you that all the delete button is good for is removing the part of a file that tells the operating system where to find it. Each file comes with a table of contents about where the information for that file is located.
There's no guarantee that the information on the hard drive is irretrievable unless it is either: physically destroyed or written over with ones and zeroes multiple times.
4. Peace of Mind So You Won't Get Fined (Or Worse)
According to IBM and the Ponyman Institute, the average cost of a data breach is $3.86 million, though it could be much higher. U.S. based companies are most at risk for data breaches according to the report.
This includes third-party security consultation, legal fees, and lost sales among many other reasons.
5. Free Up Closet Space
If you're like most companies you probably have a secured records room. That room probably also serves as a storage room for things you can't figure out how to dispose of, like old hard drives or prototype product lines.
It would be easy to overlook an employee coming in and taking one to sell to a competitor or on the black market.
Leave Destruction To The Professionals
The headache of secure hard drive destruction is best left to a professional shredding and destruction service. In order to ensure that it's done properly and in a compliant fashion, it's best to hire a service with years of relevant experience. Whether it's hard drives, they're in your desktops or laptops, tablets or smartphones, it's essential that you maintain compliance with the constantly changing e-waste regulations.
According to a recent Department of Health and Human Services report, data breaches in the health industry due to improper disposal of e-waste are becoming more common. Make sure your vendor can guarantee that your drives are completely destroyed—and that their data is unrecoverable.
It's hard to remember that hard drives are embedded in most technology – everything from laptops, to tablets to video game consoles. When it's not exactly sure what items need to be destroyed, a trusted secure hard drive destruction service will help determine how to select your e-waste shredding.
Most shredding and destruction services will provide you with a certificate of destruction. This document states that the data stored on your hard drive has been properly erased and all of its hardware has been disposed of. This is proof that you are in compliance with the official information security regulations in your state.
Secure Hard Drive Destruction At IntelliShred
IntelliShred provides clients with on-site mobile shredding and secure hard drive destruction services. Our advanced mobile shredding and destruction trucks will come directly to your location and destroy your hard drives and other materials. We can guarantee your hard drives will be properly destroyed before being discarded. We're also committed to saving the environment, so we will deliver any recyclable materials to the proper metal and electronics recycling center.
IntelliShred has earned the NAID's AAA Certification and we only send e-waste to certified recycling partners that comply with federal and state regulations. The National Association for Information Destruction (NAID), is a trade organization which provides a voluntary certification program for member companies that provide information destruction services.
IntelliShred has you covered on both fronts. Since 1999 we've been supporting the New York, Pennsylvania, and New Jersey areas in data protection and privacy. Contact us today for more information on our services – we're happy to answer any questions you may have about shredding and destruction.