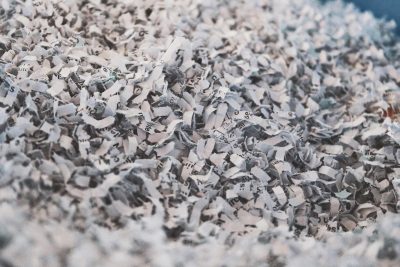 Could a large-scale shredding intervention save your company money? How much is your collection of paper records, data, or other information costing you? IntelliShred offers bulk shredding services in NJ that could save your company a considerable amount of money.
Digitalizing data has clear benefits for customers and companies. From the ability to improve client convenience and service through to the enhanced security that encrypted data may provide, many enterprises choose to store their information in an electronic format. Whilst digital storage isn't perfect, the general consensus is that it's usually preferable over paper storage. In the past few years, a growing number of organizations have transferred their data from paper to cloud or server storage.
The question of what to do with the paper data records that are left once digitalization is complete can be a challenging one. In many cases, companies may end up with vast amounts of valuable storage or office space taken up by filing cabinets and record boxes of redundant paperwork. Security and data protection concerns mean that it can't be just discarded in the garbage. The obvious answer is to use paper shredding near me. 
Read on to discover five reasons why NJ bulk shredding is a popular option with companies looking to slim down their overheads.
Paper Storage Costs Money
It's little surprise that the cost of commercial floor space continues to rise. Unfortunately, for companies that have vast quantities of unwanted paper, this may mean renting additional space to house it all. Whether office space or specialist storage space is employed, the end result is an unnecessary outlay. The paper serves no purpose if its contents have been digitalized. 
A bulk shredding contractor can shred and remove as much paper as required. The bulk shredding NJ companies use is designed to comply with security and data protection legislation. Affordable privacy shredding could free up vast amounts of space. This can be repurposed or dispensed with – both options provide a favorable financial outcome.
Reduce Security Costs
The information you hold on your clients is protected by law. In the event that paper records are stolen, copied, or otherwise tampered with, your clients could have a good case to bring against you. For this reason, paper data requires security protection. How much is your company spending on security guards, specialist security storage, secure premises, and related costs? 
When you find an NJ shredding company that can dispose of your redundant paperwork, there's clearly no need to spend valuable dollars on protecting it. Customers are often amazed by the amount they save on security-related functions once their paperwork has been securely disposed of.
Piecemeal Disposal Costs
Some companies opt for an "eating the whole elephant" approach to their waste paper. This involves attempting to dispose of paper filing in small, "bitesize" quantities. The main reasons this approach is rarely cost-effective are:
– A small reduction in paper volume is not going to make a meaningful reduction in the sums needed for storage and security of the remaining files. It will take many months of piecemeal paper removal before there is a measurable difference.
– The security shredding NJ businesses can access is usually cheaper when bulk disposal is requested. 
If you want to save money on your document destruction, waste bulk shredding is usually the cheapest way to go.
Labor Costs
Whilst a company holds on to the paperwork, it's also responsible for it. This usually means the files will need to be regularly inspected to check they're in good condition. If digitalization hasn't been completed correctly, administrative staff may have to trawl through the paperwork to find data. Any interaction with paper records costs staff time. 
Can you really afford the labor costs associated with managing redundant paper data records? 
If you look for the cheapest bulk shredding NJ organizations can use, you'll usually end up saving a bunch on labor costs.
Reduce Your Insurance Premiums
Protecting your business is a vital part of successful trading, but how much are you spending on insuring your outdated paperwork? In most cases, the paperwork will need to be insured against fire, flood, and theft. Insurance cover is needed to protect your business in the event that the data contained in the paperwork is misused or lost. Chances are if the data is already digitalized, you're paying premiums to protect it twice – once in electronic format and again in paper format. 
Once the unwanted paperwork is safely destroyed, there's no need to insure it. The one-off cost of paper record disposal almost always compares favorably with the cost of ongoing insurance and related outlay. 
It's worth noting that data protection and security is a topic that's grown in prominence over the past few years. Your clients are likely to be very sensitive about how their data is stored and utilized. When considering whether to cost of paper record disposal outweighs the benefits, it's worth taking a look at the potential implications retaining paperwork could bring.
A flood, fire, theft, or loss of paperwork could mean your company's reputation takes a  nosedive. It is likely clients affected would take legal action. Your company might even end up subject to legal action from the government for failing to meet appropriate data protection standards. Why risk it?
If you're looking for document shredding near me that's fast, efficient, and complies with all relevant data protection and security legislation, our services could be just what's needed.  The on-site, bulk shred NJ companies receive from us is discreet, thorough, and effective. When you're Googling, "Where can I shred paper in bulk?", we're the affordable answer.