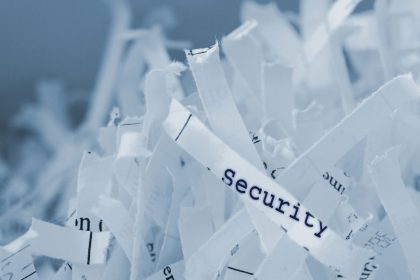 On-site Paper Shredding
Sure, an office shredder is a very handy tool to have in your office. However, is this process secure enough for the sensitive documents you're trying to safely destroy? The answer is no. Office shredders tend to break down as they become overworked, and they shred paper into strips which can often be reassembled. Should the wrong person get a hold of these shredded strips, you bet they find a way to put them back together to carry out a criminal act. Identity theft is on the rise, and therefore it is more important now than ever to have secure product destruction performed by professionals. This is the only method that guarantees your information is entirely safe, with on-site paper shredding.
Worried about transporting your information off-site? On-site paper shredding services allow you to have all sensitive documents shred, without having to leave your workplace. IntelliShred will set up an appropriate pick-up schedule for your business, and arrive at your location where the paper shredding process will take place right before your eyes. Our state-of-the-art shred truck can shred in seconds what might take you hours with a handheld office shredder. Following your shred job, we'll present you with documented evidence that material has been destroyed in accordance with state and federal privacy laws. This Certificate of Destruction provides you with the peace of mind in knowing that your information is 100% irrecoverable.
As a business owner, you have many decisions to make. However, when managing your physical data like crucial and sensitive documents, you don't want to make the wrong decision that can compromise your business.
Today, a standard option that many businesses are adopting for safe document destruction is on-site paper shredding. On-site paper shredding enables your documents to be destroyed directly at the facility itself.
The documents that you're planning to get shredded do not have to be removed from your premises at all and can be taken away only after the mobile shredding service has successfully destroyed them.
Better Security
When dealing with sensitive and critical documents, it's not the best idea to send them to an off-site shredding service where they can be compromised. These documents don't just contain important information about your business but can also be about your clients.
On-site shredding services can ensure that your documents don't have to be put through multiple uncertain scenarios and can be shredded without many people laying their eyes on them. You can also witness the paper shredding happening for yourself, which ensures that the process is secure from start to end.
Cost-Efficient
When you have an office shredder, you must constantly maintain it and ensure that its functionality hasn't diminished. Over time, it can start being a significant expenditure for your company, especially when your shredding requirements are too big to be handled by one shredding machine.
You don't have to worry about maintenance when you get on-site shredding services, and it's more affordable than investing in your own shredding device. You can find plans and pricing that work for your budget and fulfill all your requirements.
Time-Saving
Whether you're planning to send your documents to an off-site shredding service or shred them yourself, it is a process that can take quite a bit of time. You don't want to delegate employees to spend hours going through and shredding hundreds of documents.
When your employees don't have to be burdened with shredding documents or arranging for them to be taken off-site, they can fully concentrate on their regular duties. It can also reduce the chances of human error because most employees are not adequately trained to handle shredding large amounts of documents.
Peace of Mind
When you've delegated your shredding needs to an off-site service, you can constantly be worried about who's handling your documents at this off-site location. From the transportation to the shredding service itself, there are many uncertain variables involved when you're using an off-site service.
In comparison, with on-site shredding services, you don't need to worry about any variables as the service comes to you. You will also be guaranteed an immediate Certificate of Destruction, which is necessary to be legally compliant.
You'll also be pleased to know that most on-site services are eco-friendly, and your shredded documents don't just end up in a landfill somewhere. Your shredding could result in the production of recyclable materials, making your company environmentally conscious.
When you partner with IntelliShred and our on-site paper shredding, you may select from our one-time purge paper shredding services, or for ongoing paper shredding, our regular scheduled destruction services. Our professionals work quickly, but efficiently so that there is a little interruption in your work-day. Our shred truck is equipped with industry-leading shred technology, including video surveillance for additional security purposes.
Need On-Site Shredding Services? We're Here to Help
At IntelliShred, our on-site paper shredding services are not only secure, but they are also affordable as well. If you live in New Jersey or Pennsylvania and are looking to outsource your information management needs, we have a variety of solutions for you including paper shredding, hard drive destruction, and document storage services. Contact us today to learn more about IntelliShred and how our services differ from other paper shredding companies.