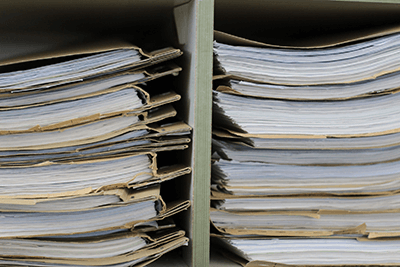 In 2019, identity theft and fraud cost consumers $16.9 billion. Meanwhile, companies paid billions more in fines and penalties for improperly disposing of sensitive or protected information.
Nationwide, the question of how to best dispose of documents is at the top of everyone's minds. Hiring a third-party company to handle it for you is the favored option, but how secure are shredding services? Is there a difference in safety between on-site and off-site shredding?
Here's what you need to know about document shredding services and how to choose one.
Why Use Professional Shredding Services at All?
Both companies and individuals routinely underestimate the volume of documents they have that need shredding. Any documents containing sensitive or personally identifiable information should be shredded. This includes:
Individual or company names and addresses
Contact information like telephone numbers
Birth dates
Banking or credit card information
ID numbers including Social Security numbers, driver's license numbers, and company ID numbers
Protected client information
Tax information
Travel documents
Usernames and passwords
Often, people fail to realize how much information a document carries. This is because features like barcodes and account numbers encode information in ways that make it impossible to see. It isn't only new files or documents that need shredding either. Legal standards often require the keeping of documents for a set number of years. For example, the minimum storage period for many tax records is seven years. This means that at any given time, large numbers of both new and old documents are reaching their disposal point.
To further complicate matters, some companies need to be able to prove when and how they disposed of information. In-house shredding practices make that difficult.
Commercial paper shredding services, by contrast:
Can handle any volume of work
Make it feasible to shred everything you need to
Provide certificates of destruction that are invaluable for legal purposes.
How Secure Is Shredding?
Are you familiar only with the tiny, waste-basket-sized shredders ubiquitous to homes and offices? If so, you may have doubts about the effectiveness and security of shredding. In fact, you would be right to!
Document and information safety is challenging to achieve via traditional in-house shredding processes. Documents can be vulnerable to information theft:
During transport to where shredding occurs
During storage, if there is a wait before shredding
When dumped in a recycling or garbage bin
If your staff is busy, documents can sit unprotected for an extended period of time before shredding. Traditional shredders don't help. Cheap strip-shredders slice documents into strips. These strips tend to be between one-eighth and five-sixteenths of an inch wide. This can look satisfying, but it isn't very safe.
Thieves can often reconstruct documents shredded using strip-shredders. They steal bags of strips from refuse bins, then use sophisticated computer programs to piece them back together. Professional shredding companies, by contrast, protect your documents at every step.
First, they provide security containers into which you can deposit documents as soon as you finish with them. This ensures that your information is inaccessible to thieves between use and shredding. Second, they micro-shred and pulverize documents. This makes them guaranteed irretrievable, even to thieves using the best technology. Third, they remove your shredded documents and deliver them to a recycling facility. This is protective, eco-friendly, and cost-effective.
Commercial shredding companies provide your company with the highest level of security available. In addition, they certify their work. This enables you to document your regulatory compliance and efforts to control your carbon footprint.
On-Site vs off-Site Shredding
All industrial shredding is safer than relying on in-house shredding. On-site document destruction services, however, have an edge over off-site services. In fact, they are the pinnacle of safe document destruction.
With on-site shredding services:
Companies can watch as their documents are collected and shredded on the spot
There are no opportunities for information theft in transit
There are no opportunities for theft while documents are in queue at an off-site facility
Company representatives can observe and document the process as an added layer of accountability and liability protection
All parties involved enjoy comfort and peace of mind
Thus, when asking yourself "should I use an off-site shredder or look for mobile shredding services near me?" the best answer is to choose mobile shredding services whenever possible.
Other Benefits of Shredding
In addition to being the safest option, on-site shredding is:
Cost-effective
Efficient
Eco-friendly
Convenient
Few companies take the time to count the costs of shredding in-house. This leaves them surprised and dismayed when the full costs are tallied up, including:
Shredders
Shredder parts, maintenance, and service
Energy usage
Few workers have the spare time to shred documents in a timely manner around their other work. As such, shredding is often relegated to an after-thought. This creates opportunities for information theft. Alternatively, workers may worry about complying with information security policies. They may spend large chunks of time shredding documents rather than doing other work assigned to them.
Using a professional shredding company enables your employees to drop files in secured bins and confidently get on with their work. It also eliminates hidden costs, makes it possible to accurately see and budget for exactly how much document security and shredding costs you each year.
Commercial paper shredding services offer convenience and cost-effectiveness in the form of scheduled services, as well. With regularly scheduled service times, you can fully automate your document disposal process. This frees up time, energy, and resources you can devote to your core competencies.
Finally, document shredding services are eco-friendly. They guarantee that your shredded documents get safely recycled, which is not something you can be sure of otherwise. This can be the perfect top-note to your company's Green goals and standards.
How Secure Are Shredding Services?
How secure are shredding services? They are the most secure option currently available to protect your data and your company from information thieves. Contact us today for a quote and discover just how efficient, convenient, and cost-effective using professional shredding services can be.