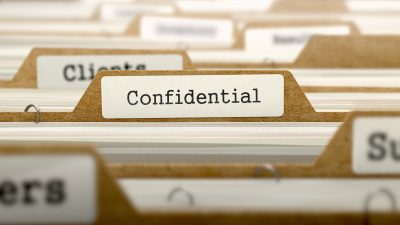 In August 2019, the Bulgarian government fined DSK bank a whopping $569,930 in relation to a data breach.
The over half-million-dollar fine is enough to make any business owner reel. However, what's even more startling is that identity thieves stole printed documents. The event shows that thieves go after both printed and digital data.
It's important to take special precautions when shredding sensitive information. Acquiring a certificate of destruction is a vital part of a document disposal plan. However, you might wonder, "What is a certificate of destruction?"
To learn more about certificates of destruction and why they're important, keep reading.
Securing Your Confidential Data
You probably put a lot into making sure that your network is secure. However, how much thought have you put into the security of your paper documents?
The DSK bank incident highlights the importance of confidential document shredding. Thieves stole more than 33,000 physical records during the DSK data breach. There was a reason for the Bulgarian government's hefty fine. The bank failed to establish policies to protect this kind of information. Businesses handle a lot of paper. As the DSK bank incident shows, it's important to ensure that those papers don't land in the wrong hands. Unfortunately, the DSK bank is not alone. Digital and non-digital data breaches are common, and both tactics are equally damaging.
As a business owner, you have a legal obligation to protect your customers' sensitive data. You must also protect your employee information. You might store information on paper, CDs or DVDs. Either way, it's important to dispose of unneeded sensitive data properly. Shredding is the best way to dispose of confidential information. Still, it's vital to develop clear policies. Your policies should cover how to dispose of sensitive documents. For example, you might establish a policy requiring that employees shred all documents. In this instance, no documents would leave the property if it's not shredded.
Alternatively, you might develop a selective shredding policy. In this case, employees will determine which documents to shred.
What Is a Certificate of Destruction?
Shredding ensures that sensitive information is inaccessible. It also ensures that malicious actors can't reassemble confidential documents.
A certificate of destruction acknowledges the work performed by a professional shredding service. For example, it might serve as a receipt for the destruction of paper documents. It could also serve as proof of hard drive or other storage product destruction.
The detail of a certificate of destruction will vary among service providers. What's more important, however, is choosing a professional shredding service. An expert shredding service maintains high standards. As more identity thefts occur, lawmakers are taking steps to hold businesses accountable. As a result, certificates of destruction are becoming more prominent.
A certificate of destruction is a form of proof. It shows that your organization took steps to dispose of confidential information securely. However, not all certificates of destruction are equal. Furthermore, a certificate alone is not enough. You must choose a qualified firm to ensure the proper disposal of sensitive information.
Any good shredding firm will issue a certificate of destruction. It's more vital, however, to assess a service's credentials. For example, the National Association for Information Destruction (NAID) establishes industry standards. It's a well-known agency that governs the product destruction industry.
For this reason, it's helpful to look for shredding services that are NAID certified. These organizations follow strict standards that ensure the full destruction of confidential documents.
Choosing a Reliable Shredding Service
It's always a good idea to work with NAID certified companies. The NAID is your starting point for finding top-notch service providers. The organization issues AAA Certification to select vendors. Shredding services must comply with strict guidelines to earn accreditation.
For example, the NAID guidelines cover shredding service hiring policies. They also encompass operational security. Companies must also follow a specific destruction process. They must also carry sufficient insurance to work in the industry.
Not every company passes a NAID audit. You may have considered working with a firm without certification. However, it may prove in your best interest to look for a better provider with NAID certification. Furthermore, all shredding services destroy paper. However, not every service provider can effectively destroy all kinds of outdated media. Alternative media might include hard drives and backup tapes.
You could simply overwrite these kinds of data storage devices. However, they would remain vulnerable to unauthorized access. Instead, it's safer to hire a qualified shredding service to destroy this information on-site.
A top on-site shredding service makes security their priority. For example, the firm will require its employees to sign a confidentiality agreement. The company will also perform an extensive background check before hiring an employee. Also, a top shredding firm will ensure that all employees are trained thoroughly. The staff members will have expert training in secure document destruction.
Ensuring Secure Shredding
When you hire a shredding service, it's highly beneficial to obtain a certificate of destruction. Obtaining a destruction certificate is an important step. It helps to ensure that a service provider has destroyed your document securely. However, there are also a couple more things to consider. For example, it's safer when a shredding service completes their work on-site.
When you transport documents, you give malicious actors more opportunities. When driving documents to a shredding firm, for example, your employees can lose documents. By hiring an on-site service, you reduce the chances of your confidential documents falling into the wrong hands.
In addition to these practices, you must also observe the shredding process. A top-notch shredding firm can provide you with real-time video proof of the destruction of your sensitive documents.
One Service Provider for All Your Shredding Needs
Now you know the answer to, "What is a certificate of destruction?" What you need now is a shredding service with a reputation for reliable, confidential document shredding. IntelliShred is an experienced and capable secure document shredding service. We are NAID certified and can help you to destroy confidential information safely and securely.
Contact an IntelliShred representative today at 1-866-747-3360 or connect with us online. We're waiting to show you more about securing your confidential documents.