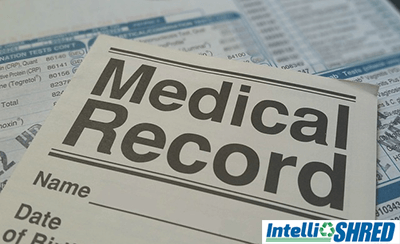 Medical Shredding Services
Medical records are among the most confidential and personal records kept by any organization. Their secure disposal is critical to comply with the law and protect the reputation of patients, companies, and service providers. Our medical shredding services can keep you on the right side of the law and keep you in business.
Both paper and digital records need to be destroyed carefully and securely. With IntelliShred's medical shredding services, you can be confident that our systems comply with regulations and laws for secure destruction.
The health services industry is one of IntelliShred's main markets. We have the experience and expertise to take care of your paper documents, e-waste, x-rays, and other confidential material.
Paper Documents and Secure Document Destruction
There are good reasons why the medical services industry often uses paper records. Despite incentive payments from federal government and an explosion of competing digital record systems, around half of doctors surgeries and more than half of hospitals in the US still use paper systems.
Progress toward electronic systems for long-term record keeping is gathering pace and has some clear advantages. Most notably, perhaps, these are where services are integrated with medical facilities, pharmacies, and insurance companies.
When it comes to day-to-day record keeping, charts, x-rays, and forms, however, paper still has advantages over electronic devices and short information digital storage. Most obviously, there is the cost of setting up and maintaining digital systems. A paper system is cheaper to create. And the reliability, convenience, and simplicity offered by paper make it the most common and convenient method of day-to-day record keeping in the medical industry.
This two-stream system of day-to-day paper charts and forms that are digitized when archived and longer-term digital storage looks like it here to stay for the time being. Our medical shredding services include secure destruction of both paper and digital records.
Document Destruction: How IntelliShred Can Help
IntelliShred is AAA certified with the National Association for Information Destruction (NAID). This assures you of our ability to destroy all documents to 100% unrecoverable using the highest industry standards.
We shred and destroy paper documents, notebooks (including the covers and binders), folders, X-rays, Microfilm and Micro-fiche and a whole lot more. Contact us with your requirements and one of our representatives will be happy to help.
If you are digitizing your patient records and need to destroy paper documents, IntelliShred has you covered. Our mass document destruction services can handle huge quantities of documents quickly. You won't even need to remove bindings or take them out of cardboard folders or boxes. Our state-of-the-art shredding trucks can handle spiral bound documents and folders before recycling the waste.
For day-to-day record destruction, our regular document destruction service provides you with the ideal solution. We offer security containers for your facility at no cost so that your employees can dispose of papers and products. Then we come to your office at regular, scheduled intervals with one of our shredding trucks. We empty the containers and shred them at your location.
With both services, you can view the entire process on the TV monitor incorporated into our truck. When we're done, we'll print you a usage receipt that lets you know how full your containers were.
Medical Shredding Services Protect Patient Information
Improper data management can expose patients to identify theft. Shredding documents is one of the best ways for healthcare providers to ensure their patients' confidentiality and make sure their information is never stolen.
Stay HIPAA Compliant with Reliable Medical Shredding Services
The Health Insurance Portability and Accountability Act of 1996 (HIPAA) was enacted to ensure nationwide standards to protect patients' sensitive information. HIPPA dictates how medical records should be handled and, ultimately, how they should be destroyed. It's not enough to throw away records in a sealed bag. Shredding services guarantee that HIPAA standards are met through proper document destruction.
Medical Staff Is More Productive When Medical Shredding Services Take Over
Some healthcare providers have shredders in their offices. While these machines might be HIPAA compliant, they make more work for the office staff. Using professional shredding services cuts back on how many trips office staff has to make back and forth to the shredder each day. They're able to concentrate on other tasks and are more productive.
Medical Shredding Services Improve Recycling Efforts
Medical offices generate a lot of paper, including non-patient-related paperwork. Hiring a shredding service is one of the best ways for a medical office to improve its recycling efforts. Shredding services recycle the paper they pick up. The recycling is done by trusted local companies and patient information is never compromised during these efforts. It's a win for the medical office and a win for the environment.
Increased Patient Confidence Is a Key Reason to Hire Medical Shredding Services
With so many data breaches reported in the news, patients are increasingly nervous about sharing their information. Offices that hire professional shredding services benefit from increased patient confidence. Their patients know their information is handled carefully and never haphazardly disposed of.
Digital Document Destruction
Hard-copy data isn't the only data medical offices need to worry about. Proper digital document destruction is a must-have in today's modern physicians' offices. The amount of patient information stored on hard drives and cloud services must be handled with care.
E-Waste and digital storage systems represent an even greater risk to information security than paper files. Vast numbers of records can be stored on tiny devices that are easy to lose or steal (such as flash drives) or on older servers with outdated encryption techniques. If it's not destroyed correctly, a hard drive with thousands of company files could result in the theft of confidential information.
If you have computers or servers that have reached the end of their life, or flash drives, Cds/DVDs, or hard drives that need to be destroyed, IntelliShred can help. Even if data is encrypted, the method of encryption may now be out of date, and easy to crack. The only sure-fire way of destroying the data is to destroy the medium physically. Unwanted storage devices containing confidential data and information should be destroyed outright.
Physicians' offices rely on medical shredding services such as IntelliShred to keep patient information secure and instill confidence. A data breach not only puts patients' health records and personal information at risk. It also creates a legal nightmare for medical offices.
Once we destroy the data, we can recycle the other components commonly found in e-waste, such as monitors, printers, servers, keyboards, and additional electronic devices.
Get in touch today to see how IntelliShred's medical shredding services can help your organization run more smoothly and securely.