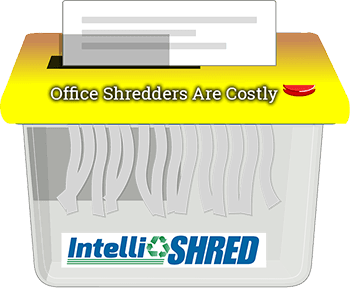 Paper Shredding Cost
It's normal for businesses to want to save as much money as possible, but not everyone looks at the smaller expenses that really add up – like paper shredding cost. Most often, businesses of all sizes tend to rely on small, individual office shredders. They believe those small machines are efficient and can do the important job of protecting the confidential information of their clients, customers or patients in a cost-effective way.
Little do they know, if they added up all the money spent on using such a small shredding machine, they would realize that it's not cost-effective at all. Not only are some of those machines too small to handle large volumes of paper, but they are expensive to maintain as well. In some cases, the maintenance on the machine may cost a lot more than simply purchasing a brand new one.
It's possible that your employees are trustworthy, but it could be quite risky to allow them to decide what should be thrown in the trash and what should be shredded. If important information gets discarded and shredded properly, you could face the wrath of identity theft or suffer fines and penalties for not remaining compliant. It's clear that shredded paper from a small office shredder can be easily put back together. Busy employees may not be consistent in their shredding and allow paper to stack up on their desk. There are great costs associated with these mistakes.
Here's an estimate based on a typical office with 5 employees. The boss decides to purchase a small office shredder for his employees. He asks the employees to routinely perform the office shredding. The boss thinks he's saving money and time by having his staff handle shredding. After the cost of the shredder, it's estimated that the paper shredding cost could average to $100 per month – that's $1,200 per year! This would of course include any employee labor and machine maintenance costs.
Breakdown of Monthly Paper Shredding Costs:
Maintenance                                                     $3.00
Garbage Bags                                                   $4.00
Depreciation/Replacement of Machine       $3.00
Employee Labor Costs                                    $87.00
 TOTAL $97.00 Per Month
This amount of money does not account for a Certificate of Destruction that needs to be on file, for the time spent cleaning up the mess or for a vast amount of lost productivity.
Additionally, if you choose to shred your documents in-house, here are some of the issues and risks your business could face:
Employees may not be consistent in their use of shredders
There is no proof of compliance with shredding regulations
Self-shredded material could be carelessly tossed into the trash
Certain sensitive information should not be handled by employees
Removing binder clips, paper clips, sticky notes, rubber bands is not productive
Office shredders can't handle large volumes of paper at once
Office shredders are slow, inefficient, and break down easily
It's much more cost-effective to utilize a professional shredding company with regular scheduled shredding services. It not only saves you time and money, it will protect your business information from getting into the wrong hands. Be sure to hire a NAID AAA Certified mobile shredding company so that you will remain compliant with privacy and shredding regulations. IntelliShred has been servicing the tri-state area for over two decades. We're here to answer any questions you may have about shredding and destruction. Contact us for more information on our services.