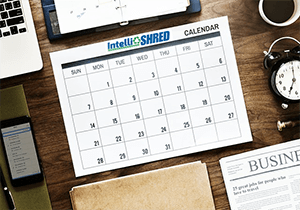 Scheduled Shredding Services
Although many companies invest in digital security systems to safeguard their private information, there is still a continued need for the protection of sensitive information that is stored on tangible paper documents. Unfortunately, this need can sometimes go overlooked or undermanaged, costing the company valuable time, money, and productivity. In some cases, proprietary information such as trade secrets, product formulas or recipes, and financial records have been stolen or compromised, doing enormous damage to the company.
Today's businesses must hire commercial paper shredding companies to ensure their information is destroyed properly. Thorough, scheduled shredding isn't a tedious practice, it's a vital part of data security, and can save your company valuable resources. At IntelliShred, we can provide you with the document destruction services you need to clear out space, improve employee productivity and most importantly, protect the valuable information you've accumulated to keep your business secure. The list is not exhaustive, but here are three benefits you'll gain from our services.
There are many benefits to hiring a mobile shredding company that offers regularly scheduled shredding services:
Productivity – Time is money as the saying goes, and in today's demanding business environment, it's never been more true. Employees are required to produce results at unprecedented levels, and if they are forced to spend their time on paper shredding, they won't be able to devote their energy to the projects you need to achieve maximum productivity and profit. With IntelliShred, you can let us handle your regular shredding needs so you can get back to work.
Protection – From the Health Insurance Portability and Accountability Act to the Fair and Accurate Credit Transactions Act, we're familiar with the laws surrounding information security, and we're able to destroy your documents according to all government regulations so that they are completely irrecoverable. A shredding service can help your company regularly maintain compliance with all of the regulations surrounding information and privacy. The Health Insurance Portability and Accountability Act (HIPAA), the Fair Trade and Accurate Credit Transaction Act (FACTA), and Gramm-Leach-Bliley (GLB) all enforce federal standards on privacy of confidential information. Shredding on a regular basis ensures you will meet all the privacy protection standards. From locked document containers to tracking systems that monitor your documents as they are handled, we provide multiple security measures to ensure that all information security rules are followed, thus saving you the cost incurred by potential violations. We will also give you a certificate of destruction to verify that you have adequately shredded your documents, protecting you from costly liability claims.
Profit – One way or another, companies that produce large quantities of documentation are going to have to dispose of their data. The space required to store accumulated documents, the time taken for employees to properly dispose of them, and the cost of adequately disposing of their paper is all much more expensive than our low-cost scheduled shredding services. We will develop a weekly, bi-weekly, or monthly shredding schedule based on the needs of your business, and our scheduled shredding services will keep your office space clutter-free and running smoothly, at an affordable cost to you.
Reducing liability – Regularly scheduled shredding services save you from paying your employees overtime. It allows your current employees to be more efficient and productive so they can continue to focus on more important business matters. In order to start with this type of service, the provider will install document collection containers within your office space, allowing employees to discard items in a secure fashion. These containers are then emptied according to your customized schedule and your documents are then shredded safely and securely.
Protecting your business reputation – Most businesses rely on their good reputation to maintain a constant flow of customers. When documents are not properly destroyed, they may fall into the wrong hands and this could affect your company's reputation. To manage the negative PR could cost you hundreds, if not thousands of dollars – that's money out the window! Your clients, your employees, and possibly your whole community will no longer trust your business practices.
It's best to find the right professional for the job – make sure the one working for you is screened, uniformed and has experience in shredding and destruction. Typically, customers choose to have the shredding done at their business location by a mobile shredding truck, but it's also possible to have the items transported to a secure warehouse where the shredding is executed.
IntelliShred has been servicing the tri-state area for over two decades. We hire only the best technicians for our shredding and destruction teams and we pride ourselves on how dedicated they are. Our customers continue to shred with us again, and again and we're happy that they know we'll help them relieve the burden and stress that comes with this important task. As part of our services, we will:
Protect Your Confidential Information
Ensure Compliance with HIPAA, GLB & FACTA
Provide High Security On-Site Shredding
Offer Flexible Scheduling
Save you money – our regularly scheduled shredding services cost less than $2.00/day!
From freeing up your employees to do more productive work, to protecting yourself from security breaches and ensuing legal violations, to clearing out space and finding a more cost-effective way to dispose of your documents, the benefits of regular shredding are so numerous that the only question to be asked is: why would you dispose of your documents any other way? Our scheduled shredding services are both affordable and professionally handled, and our customized shredding appointments may even save you money on our own services. So, if you need a safer way to protect your sensitive information and want to save on time, money and resources, start by letting IntelliShred handle your scheduled shredding needs!