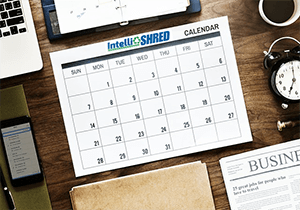 Scheduled Shredding Services
It's unrealistic to think that your confidential information and data is fully protected. No matter what type of secure systems you may have in place, there's always a risk of theft – especially if you still deal with paper documents. Today's businesses must hire professional document destruction companies to ensure their information is destroyed properly. Company information, proprietary secrets/formulas, client records and employee files must all be safely destroyed when they are no longer useful.
There are many benefits to hiring a mobile shredding company that offers regularly scheduled shredding services:
Protecting privacy
Increasing productivity
Reducing liability
Protecting your business reputation
Saving the environment
Third party confirmation documents have been destroyed
But the most prominent reason companies choose to shred regularly is to save money.
First and foremost, regularly scheduled shredding services save you from paying your employees overtime. It allows your current employees to be more efficient and productive so they can continue to focus on more important business matters. In order to start with this type of service, the provider will install document collection containers within your office space, allowing employees to discard items in a secure fashion. These containers are then emptied according to your customized schedule and your documents are then shredded safely and securely.
Another way companies will save money is to avoid costly penalties associated with the safety of confidential information. A shredding service can help your company regularly maintain compliance with all of the regulations surrounding information and privacy. The Health Insurance Portability and Accountability Act (HIPAA), the Fair Trade and Accurate Credit Transaction Act (FACTA), and Gramm-Leach-Bliley (GLB) all enforce federal standards on privacy of confidential information. Shredding on a regular basis ensures you will meet all the privacy protection standards. The service provider will offer proof that your items have been shredded in a Certificate of Destruction. Having this proof also reduces any other potential liability risks your business may face.
Most businesses rely on their good reputation to maintain a constant flow of customers. When documents are not properly destroyed, they may fall into the wrong hands and this could affect your company's reputation. To manage the negative PR could cost you hundreds, if not thousands of dollars – that's money out the window!
Your clients, your employees, and possibly your whole community will no longer trust your business practices.
It's best to find the right professional for the job – make sure the one working for you is screened, uniformed and has experience in shredding and destruction. Typically, customers choose to have the shredding done at their business location by a mobile shredding truck, but it's also possible to have the items transported to a secure warehouse where the shredding is executed.
IntelliShred has been servicing the tri-state area for over two decades. We hire only the best technicians for our shredding and destruction teams and we pride ourselves on how dedicated they are. Our customers continue to shred with us again, and again and we're happy that they know we'll help them relieve the burden and stress that comes with this important task. As part of our services, we will:
Protect Your Confidential Information
Ensure Compliance with HIPAA, GLB & FACTA
Provide High Security On-Site Shredding
Offer Flexible Scheduling
Save you money – our regularly scheduled shredding services cost less than $2.00/day!
Contact us today for more information on our services. We're happy to answer your questions!