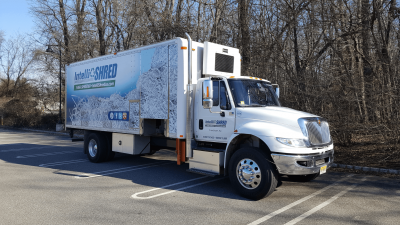 Mobile Shredding Company
See Recycling Today's article on us!
In today's world, paper documents and digital storage devices store confidential information for businesses around the globe. It's crucial to have this information protected and when it's no longer useful, businesses must shred and destroy these items properly to avoid fines, penalties and even lawsuits.
Most businesses believe that hiring a mobile shredding company will be too expensive for their budget. They think it's cheaper to have an internal employee sit next to a small office shredder and on a daily basis, spend at least an hour or two shredding. A mobile shredding company is indeed the most cost-effective and secure way to shred and destroy your sensitive information.
There are several reasons why hiring a mobile shredding company is essential:
Information Security & Safety: Using mobile shredding trucks will help your business eliminate the risk of identity theft. With mobile shredding and destruction services, there are cameras which will document the shredding methods to ensure they are done in a secure fashion. Your business will rest easier knowing that your information was safely destroyed.
Compliance with State & Federal Regulations: Because the mobile shredding service is executed on site, in front of your eyes, they will provide you with an official Certificate of Destruction. This certificate can be used to prove that your business has remained compliant with state and federal regulations.
Your Employees Will Remain Productive: It's common for any quality mobile shredding and destruction team to come directly to your location to handle the whole process on site. Having a third-party manage this time-consuming work helps your employees remain productive and keeps their focus on more important work.
Saving Time, Energy & Trees: Mobile shredding companies can save the environment most effectively. These companies typically have advanced shredding and destruction equipment that can handle larger jobs in a faster timeframe. When a business chooses mobile shredding, the methods in which they process paper helps save time, energy and in turn, trees. These mobile trucks are always ready to haul your shredded materials to a recycling plant.
Most Cost-efficient Method: There are always higher costs associated with doing the shredding and destruction internally. It's more expensive to use a small office shredder because it's not reliable and it has to be consistently maintained and repaired. If you hire a professional shredding service, the cost per shred will be less – instead, the shredding service will have to take on the costs of maintaining their equipment.
IntelliShred has been a high-quality mobile shredding company for over 20 years. Our team of shredding and destruction experts will be able to answer all your questions and help alleviate the burden of eliminating your confidential and sensitive information. We help our customers consistently shred and destroy paper, hard drives, CD's and DVD's, Video Cassettes, Microfilm, Microfiche and more. Contact us today to learn more about our services and let us help you purge your business materials.