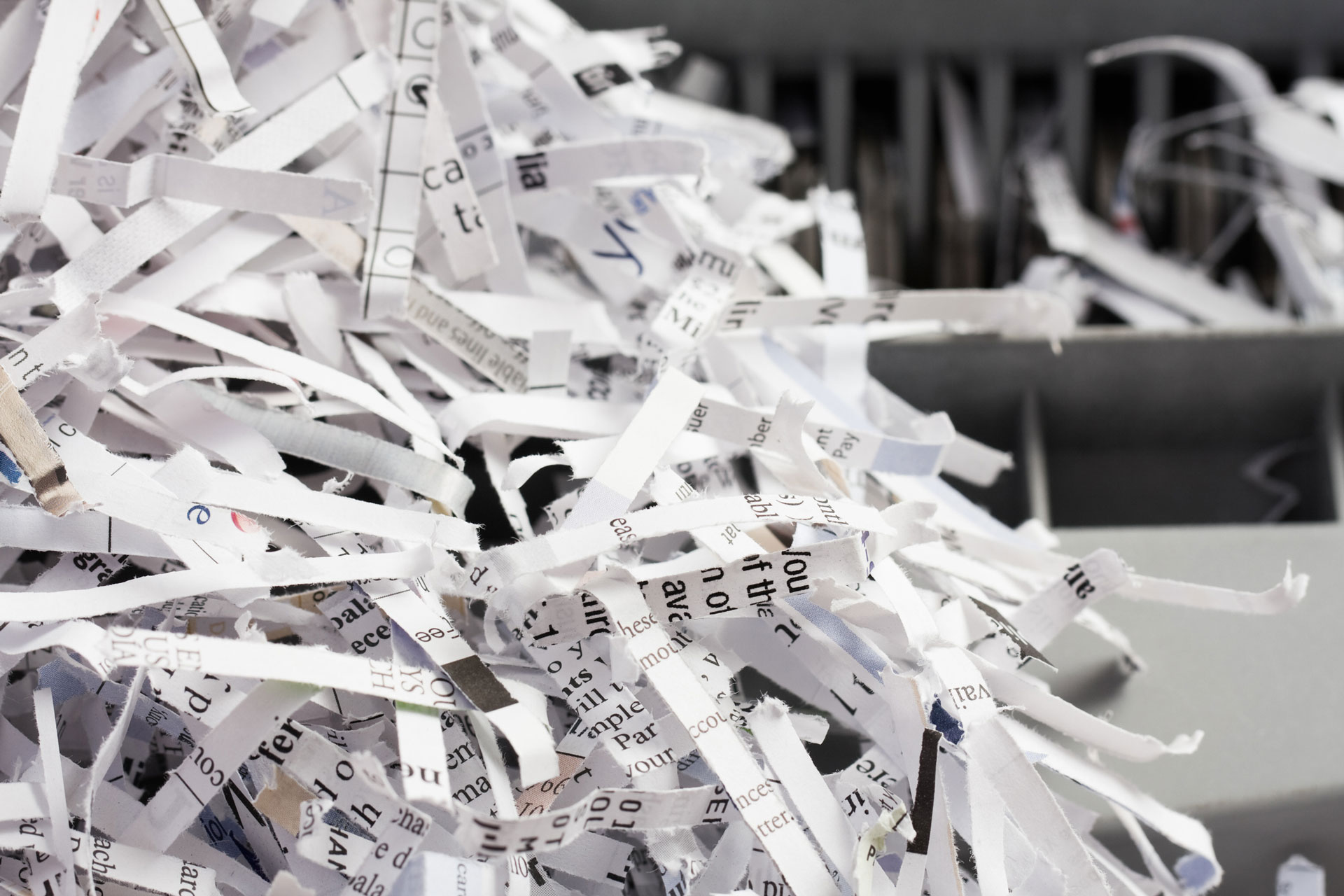 Hire a Professional Shredding Service
Did you know that Americans use 85,000,000 tons of paper every year? With a staggering amount like that, you can only imagine how much of that paper contains sensitive material. In the day of advanced technology and identity theft, simply throwing away paper isn't enough.
In today's business world, corporations and organizations of all sizes are at risk. The confidential and sensitive information they collect or store can be compromised and end up in the wrong hands.
There are professional shredding services that can help protect your business from losing every valuable document or computer file. Here are five reasons why a professional shredding service is essential:
Privacy Laws & Regulations
All organizations must protect sensitive documents in accordance with two privacy laws called HIPAA and FACTA. Any documents containing personal information must be shredded when they are no longer of use. Using trash or recycling bins to dispose of these items incorrectly can cause your company to incur fines.
Keep Your Business Secure
Unfortunately, a simple office shredder cannot guarantee the same security and professionalism that's provided by a professional shredding company, trained specifically for the job. Identity theft and fraud can occur when shredded documents are shredded by a regular office shredder because they can be reconstructed from paper strips.
Convenience
Wasting time removing staples and clips reduces productivity while hiring a professional paper shredding company eliminates the need for that step. These companies usually provide a secure bin to store your documents prior to shredding – which helps eliminate the risk of stolen records.
It's Cost-Effective
A professional shredding service costs about half the cost of doing it yourself. When you outsource your document shredding, you avoid using employee time to complete the process. In-house paper shredding takes time and often takes away from an employee's regular job duties.
Security And Compliance 
The most important reason for hiring a professional shredding company is to provide security and meet compliance requirements, if applicable. The Federal Trade Commission has established a disposal rule that applies to companies and organizations that use consumer reports. Some of these organizations and companies include:
Lenders

Insurers 

Landlords

Government agencies 

Mortgage brokers

Debt collectors

Consumer reporting companies
Even if you or your business don't fall into one of these categories, using a shredding service ensures that sensitive material is properly disposed of. A prospective company should be able to help you determine what should be shredded. 
Convenience 
Document shredding is an additional hassle that you can outsource. Given the typical day-to-day activities in business, worrying about which documents to shred just adds to the stress. Depending on a specific client's procedures, you may have to undergo additional steps to destroy documents.
Hiring a professional shredding company takes the pressure off of employees having to worry about what to destroy. Many companies drop off secure bins for the paper to be disposed of and offer on-site shredding.
Environmentally Conscious 
While the paperless office turned out to be a myth, companies are still shifting to more environmentally friendly workplaces. Many shredding companies work directly with a recycling service that ensures your disposed paper won't end up in a landfill. 
Today's professional shredding companies offer on-site or mobile shredding. That means there's no need to transport tons of paper to a facility – they can do it for your company right in the parking lot!
What Should You Look For In A Professional Shredding Service?
While the three reasons above are great, there are other items to look for in a shredding service. The first is certification through the National Association for Information Destruction (NAID). This organization sets standards for secure data destruction and offers education and events.
You may also want to look for shredding companies that can destroy more than paper. Some companies offer to dispose of other sensitive items like computer hard drives. 
Depending on your business, you may research a prospective company to see if they specialize in shredding a particular type of data. For example, if you handle medical records, you might check that a shredding service is HIPPA compliant. 
Are You Ready To Get Professional Help With Your Shredding Needs?
Now that you know three great reasons to use a professional shredding service, what are you waiting for? You should consider your business needs and make sure that those align with the services a prospective company offers. 
Contact us to learn more about our shredding services and how we can help you securely dispose of sensitive data.  
It's crucial to save your business from the risk of theft or fraud – hire a professional to do the job right!
As one of the top shredding services in New Jersey, IntelliShred provides you with the peace of mind that all critical information is being destroyed in a secure manner. We are able to create a Certificate of Destruction that clearly indicates so. Call us today for more information on how we can provide you with an efficient professional shredding service.