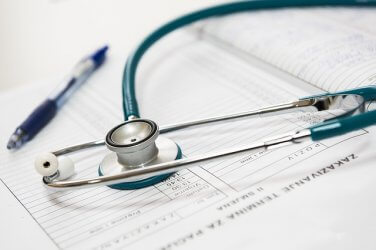 According to the U.S. Department of Health and Human Services, there's no set amount of time in which a medical practice must hold onto a patient's records. However, you'll find that if you keep them too long, they will start to pile up and take up space in your office.
When you reach that point, it becomes time-consuming to get them shredded. For this reason, you need to find HIPAA-compliant medical records shredding services. At Intellishred, we have plenty of options so that you can find a service that best suits your practice. Keep reading as we breakdown the types of assistance we have to offer.
Why Do You Need HIPAA Compliant Medical Records Shredding Services?
Unfortunately, the process of cleaning out old medical records isn't as simple as tossing them in the garbage. Doing so is risky, as an unauthorized person could see a patient's personal information—like their social security number, birth date, and medical information.
HIPAA forbids the improper disclosure of medical records, and a patient could sue you for it. That is why hiring a service to destroy them is crucial.
Patients Trust
In the modern world of recycling, trash hauled away in a trash truck is often sorted for recycling and hence is likely to pass through several hands before it is destroyed. This can expose the highly sensitive personal information contained in the records.
Hiring IntelliShred will provide you with customized shredding solutions that ensure the medical records are disposed of correctly. This helps to maintain patients trust and complete confidentiality.
Disclosure and Non-Compliance Cost Reduction
Over the last three decades, there has been a consistent rise in the number of compliance requirements with which hospitals, practitioners and others who offer medical services are required to comply. Failure to comply with these laws could make your business suffer from negative publicity, face lawsuit liabilities, or even make your company liable for legal fees.
Seeking the medical records shredding services from the pros eliminates the assumption out of understanding the federal and privacy regulations so you can focus on your clients.
Money Saving
Having an internal shredding program for your company can be very expensive. Usually, the costs spread from utility expenses, replacing inoperable equipment, performing maintenance, buying disposal bags, not to mention purchasing shredders. Outsourcing services from an established onsite/offsite document shredding company contribute significantly to lowering expenses.
Types Of Destruction & Shredding Services
It is critically important to hire a reputable shredding provider to dispose of the records considering the sensitivity of the information in medical documents and the state guidelines on medical records shredding (see our article on HIPAA shredding).
Document Destruction
When you have physical documents that contain confidential information, the best way to get rid of them is to put them through a shredder. There is no way to recover them afterward.
The best part about Intellishred is that we come to you and destroy all your documents on-site. Therefore, you can witness the process to ensure that patient records are disposed of properly. We have two different document destruction services:
One-time shredding
Regularly scheduled shredding service
You can choose one based on how fast the documents in your office pile up. It's more cost-efficient, and it is easy to switch from a one-time shred to a regularly scheduled shredding service if you need it.
E-Waste Services
As digital medical records have become more customary in the past fifteen years, you might have former patient records on old computers or hard drives. Getting rid of them isn't as simple as putting them through a shredder, but we've still got you covered.
After picking up the electronic devices from your office and putting them in a locked storage container, we'll bring them back to our site to demolish any confidential data stored on them. The parts that don't hold any information get recycled because being environmentally conscious is one of our top priorities.
Product Destruction
On top of medical records, you may have defective, recalled, or outdated products around the office that might need disposing of too. If so, our employees will take care of that for you by picking them up and securely transporting them to the site where we trash and recycle parts based on state and federal laws.
How Medical Shredding Services Protect You
Whether you work in a hospital, clinic, pharmacy or nursing home, there's tons of sensitive data in your computers and filing cabinets. To keep organized, you'll need to dispose of this information following HIPAA guidelines. With help from IntelliShred's medical shredding services, you can save time, money and your patients' privacy.
Paper Documents
HIPAA shredding guidelines demand that every medical facility "must implement reasonable safeguards to limit incidental, and avoid prohibited, uses and disclosures of PHI (Protected Health Information), including in connection with the disposal of such information." This means that records must not only be stored properly, but destroyed properly, as well.
Using a store-bought paper shredder does not protect against identity theft. Often, information like names, addresses, and social security numbers are left intact or are easily put together from improper medical record disposal. 
Before destroying documents on-site, you must train employees in how to shred medical records and give them time to do it. With everything else that must be done in a medical facility, this can be a time-consuming process. If not done correctly, your practice could face up to a $50,000 fine per violation of patient confidentiality.
Hiring IntelliShred saves your practice from having to invest money in training and equipment for document destruction. Because it's our job to keep up with ever-changing compliance laws, we keep you within all document destruction regulations.
E-Waste Disposal
For computer data, hard drives must be completely destroyed for total security. Merely throwing them away or beating them with a hammer leaves them open to anyone with computer hardware knowledge.
At IntelliShred, our team will securely transport all hard drives and dispose of them properly. By physically shredding electronic components, there will be no data left for criminals to recover.
The Danger of Doing Nothing
In 2020, losses from identity theft in the US totaled $712.4 billion. That's an increase of 42% from the previous year. These losses come from multiple sources including documents found in trash cans and data scoured from computer files.
Your practice's computer network could be full of old data that can be lucrative to hackers. Even if your facility's dumpster is secure, loose documents can end up anywhere in between the building and recycling centers. Once hard drives and records are out of your facility, there is no guarantee of security if mixed in with regular waste.
Fortunately, IntelliShred's technicians prevent this from happening. After your documents are gathered into one of our secure trash cans, we will destroy them in a specially-equipped shredding truck. We promise on-time services that won't disrupt your busy day.
Get Rid of Those Unnecessary Medical Records Today
Now there's no need to stress out about finding HIPAA compliant medical records shredding services. As a member of the National Association for Information Destruction, IntelliShred has served the tri-state area for over twenty years.
We'll destroy your data safely and efficiently. Plus, if we're not on time, we'll shred it for free. Reach out to one of our representatives to start using our HIPAA compliant services.