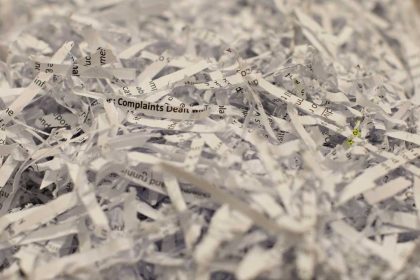 The compounding effects of improper recycling are detrimental to not only our environment but our health. But business owners and operators don't have the luxury to add that to their never-ending list of concerns. This is why at IntelliShred, we recycle shredded paper.
The simple and straightforward answer is to ensure you work with a certified company. Choose one with procedures in place that guarantee appropriate disposal, so the paper doesn't go to waste. 
If your company handles all recycling in-house, you must follow a few tips to ensure it goes to the proper recycle centers and not in the bin. 
Why We Recycle Shredded Paper
On average, the US population uses approximately two billion trees per year on paper products. And while that number is reasonable, issues arise when the waste isn't properly disposed of. 
It's a chain reaction that leads to unstoppable harm if we don't take action now. 
For example, when the paper doesn't get recycled, the number of landfills increases, leading to greenhouse gases increasing and natural resources waning. 
Preparation
If you recycle shredded paper in-house, the first step is to prepare adequately. Most recycling programs and centers request to place the waste in a paper or plastic bag. It also must be within a large container and not sitting on the sidewalk waiting to get ripped open.  
Because each city is different, it's important to check with the centers for their specific instructions. 
Once you contain your shredded paper, you can find drop-off spots in your city specifically for recycling. 
If it's for your business, it may save a significant amount of time and money to use a certified shredding company.
That way, you save time shredding the documents, containing them and worrying about adequately recycling them. A certified shredding company, like IntelliShred, offers a certificate of destruction that helps prove your business has taken eco-friendly steps with its waste. 
Confidential Disposal
One benefit to recycling your shredded paper is that it prevents thieves from getting your personal information. While there are laws against scavenging, going through your trash, it's unlikely thieves actually care. 
Other than recycling, you can also compost your shredded paper in-house or at your city's compost program if offered. The same guidelines apply to compost as it does to recycling. The standard rule in any town is that the waste must be contained! 
Of course, instead of composting at home, you can reuse the shredded paper as packing material or as flooring for your tiny hamsters and guinea pigs! 
Another alternative to recycling is to burn it. While many places allow burning yard waste if you live in a dry area, it might end up causing a wildfire! Again, this depends on your local council or city's rules and regulations, so it always pays to check beforehand. 
Recycling Shredded Paper
So, can you recycle shredded paper? The short answer is yes. 
But if you decide to do it in-house, you must adequately prepare to ensure it gets recycled and not thrown in the landfill. 
The easiest and most cost-friendly solution is to work with a certified shredding company. That way, you guarantee confidential disposal on a predictable schedule. 
Contact us to experience why IntelliShred has been in business for over 20 years and how we can help make your life a little bit easier.