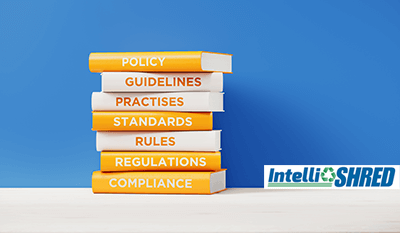 With a shred-all policy, you destroy all your business documents when they are no longer needed. The alternative is selective shredding, where employees determine which documents need to be shredded. All businesses handle sensitive information, so whether to use selective shredding or a shred all policy is a discussion all managers and owners need to have.
Confidential information includes personal information, account details, and other basic business records. When no longer needed, this information needs to be destroyed securely to avoid the risk of it being compromised. The loss or theft of customer information can have severe repercussions, including loss of reputation or trust, legal issues, and severe fines as a result of not complying with data protection regulation.
A shred-all policy appears to have the edge over selective shredding for most businesses. Here are some of the benefits of utilizing secure document shredding for all of your unneeded documents in your business.
Advantages of a Shred-All Policy
Efficiency. A shred-all policy reduces the burden on staff regarding decision making. Having to decide what needs shredding and what doesn't takes up valuable time and energy, leading to decision fatigue and potential errors. By removing that decision-making process, you can free up your workers to get on with their core roles.
Effectiveness. By shredding every document the business no longer needs, there is less chance for something critical to slip through the net. Instead of risking mistakes every day, shredding all unneeded documents reduces the possibility of human error and ensures that no confidential data will end up in the wrong hands.
Fairness. Making individual workers responsible for a company's data protection is a burden. A shred-all policy prevents any one person from being to blame for the loss of confidential information. All workers should work together and share the responsibility to ensure the security of data.
Staff training. It's easier to train staff to shred everything than it is to explain how to identify truly critical confidential and sensitive information. A shred-all policy simplifies the workday and training procedures.
Compliance. Shredding everything means that you are not taking chances with compliance. Breaking laws that govern the protection of private information, such as the Health Insurance Portability and Accountability Act (HIPAA), can incur severe fines, even if the violations are accidental.
Space. Shredding unneeded documents saves money that would otherwise be used on storage. Many businesses use expensive office space or storage units to maintain old files. Shredding them freeze up valuable real estate that could be used more effectively and profitably. The use of storage units could be reduced or eliminated.
Cost. You may find the cost of shredding everything is not much more than the cost of shredding only your critical information. By shredding everything, you streamline your processes and clear the decks in one fell swoop. Get in touch with us for a quote to see the potential cost savings a shred all policy.
In our experience, a shred-all policy has significant advantages over selective shredding. If you would like to talk about adopting a shred all policy, we can help you make it happen and facilitate the transition. You will be certain that everything is destroyed that we have destroyed everything securely, removing the worry that things may slip through the net.
We will help you implement an effective shred all program. Get in touch with our professional team for helpful, friendly, expert advice, and a quote with no obligation.