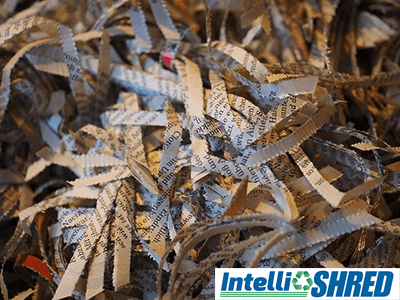 If you need confidential data destruction in Burlington County, get in touch with IntelliShred today. We offer state-of-the-art on-site data destruction and shredding services for businesses throughout the tri-state area. We have 20 years of experience, so you can expect the highest standards and effective, responsible document and device destruction.
Document Destruction in Burlington County
Data security is increasingly important. Data theft, security breaches, and misuse of confidential information are on the rise. Cybercriminals are increasingly savvy and understand the value of accessing private and personal information.
The loss of sensitive information, whether by human error or by theft, can lead to loss of business, loss of reputation, and even the demise of the business. Not to mention steep fines imposed by regulators, even for accidental violations.
While some small business owners think that they are exempt from data protection regulations, many cybercriminals target small businesses because they tend to have fewer security measures yet provide access to their larger business partners. The best way to protect your business, your partners, and your clients is to ensure regular, secure document destruction.
Our Burlington County Paper Shredding Services
When you utilize our on-site paper shredding services in Burlington County, you can look forward to us arriving at your location with our modern equipment. We provide on-site document shredding so that we can take care of your sensitive documents in front of you. You can watch your documents as we destroy them via a live screen on the side of our truck.
Because your documents don't need to leave your premises, it makes the destruction process even easier and more secure. You place your documents in our security containers to minimize the risk of unauthorized access. We pick these up and destroy them on site. Then we will provide you with a certificate of destruction that will report how many documents we shredded and attest that they were destroyed safely, securely, and professionally.
Paper Shredding Tailored to Your Needs
We pride ourselves on offering a truly customizable service. To this end, we offer one-time shredding and regular shredding services.
One-time shredding / purge shredding – This is for those situations in which you need to destroy documents urgently or once in a while. Some of our clients require one-time shredding because of a change in the law, to ensure secrecy regarding products or services, annual file cleanup, or before moving location. Whatever the reason, you can rely on us to arrive promptly and to take care of your large-scale shredding needs on-site.
Regular shredding service – This service is ideal for businesses that destroy sensitive information that is produced daily. Regular document destruction helps to maintain the security of your sensitive documents, keeps your office organized, and helps ensure compliance with document destruction laws.
Give us a call so that we can assess your needs and we can design a shredding schedule to suit you. We can perform shredding weekly bi-weekly or monthly.
You can rely on our professional service to integrate with your business seamlessly. After our professionals arrive promptly to collect your confidential information from our secure document bins, they take these to mobile shredding vehicles where you may watch the document destruction process for yourself via active video screen.
Whatever your shredding needs, get in touch with us for a flexible service, a customized response, and a fair quote. We're looking forward to meeting your paper shredding needs in Burlington County and the surrounding areas, so get in touch with us today for peace of mind, a professional service, and compliance with data protection legislation.