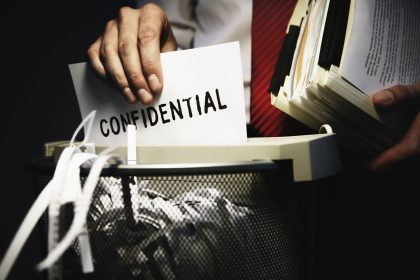 It's not a surprise that fraud and identity theft has caused businesses to lose millions of dollars. In today's global economic environment, there is a good chance your business or organization is a target. Not only does fraud impact your business financially, but it also can cause your business to suffer from:
Negative brand image

Lack of trust from your customers

Loss of confidence from shareholders
Since one in five data breaches involve paper records, you can drastically reduce the risk of fraud by ensuring your sensitive documents are destroyed securely. For two decades, IntelliShred has provided businesses like yours with confidential shredding services to keep you and your sensitive information safe.
Why Shred Your Business Documents?
It's common for business owners to spend an excessive amount of money protecting their computer network, but they often neglect to safeguard the information stored on physical documents. While shredding machines can get the job done, the amount of time it takes to shred even a small volume of paper can reduce the productivity of your staff. Most regular shredders are also unable to break down documents into unrecognizable strips, so they cannot truly reduce your risk of fraud.
While there are laws in place to protect your proprietary information, having an added layer of protection can save your business the time and money it takes to handle a breach in security. With a confidential shredding service like IntelliShred, your unwanted files can be eliminated without sacrificing the time and energy of your staff. Plus, you can rest easy knowing that all of your sensitive information has been destroyed and disposed of securely, so it cannot be used against you by malicious attackers.
How Does Confidential ShreddingWork?
IntelliShred's shredding process is designed to eliminate your unwanted documents quickly and efficiently. Our secure destruction services take place on-site, so you can watch the process unfold right in front of you (plus, there's no extra expense to move your documents). Your documents are destroyed and taken away in our unique security containers to completely eliminate the chance of a security breach. Our destruction services operate in accordance with NAID AAA standards, and a Certificate of Destruction given to you verifies the adherence to our strict process.
Types of Document Shredding
IntelliShred offers several types of document shredding services to choose from, including: 
One-time records purge

Regularly scheduled shredding

Hard drive shredding and computer recycling
You'll choose a service based on the type of material to be destroyed, as well as the volume and frequency of your needs. Each service is carried out in a timely, efficient manner by our qualified professionals.
One-Time Records Purge
For times when your business suddenly needs a large number of records destroyed, the one-time records purge is the perfect option for you. This non-recurring service is great for a variety of situations, such as:
Annual records clean-up

Destruction of files for legal compliance purposes

Audit finalization

Corporate relocation or reorganization 

File consolidation 
Whatever the circumstance, if you're in need of a one-time records purge, IntelliShred is ready to help you efficiently and securely.
Regularly Scheduled Shredding
Ideal for companies that produce large quantities of sensitive documents on a daily basis, IntelliShred's regularly scheduled shredding can be incorporated into your business's routine for easy disposal. 
IntelliShred will assess your current document consumption and use that information to design a maintenance plan that caters to your needs. Depending on this analysis, our professionals will arrive weekly, bi-weekly, or monthly to collect your unwanted documents from our secure storage bins. Our team will eliminate those documents on-site using a mobile shredding truck—a process you can watch firsthand with the truck's active video screen. 
In addition to saving you time and money with our state-of-the-art technology, this regularly scheduled destruction service offers numerous benefits, such as:
Maintaining security with specialty storage bins

Office organization

Compliance with document destruction laws

Stress-free destruction of sensitive material
With IntelliShred's dedication to customer service, you can depend on us to provide our service promptly and efficiently, so you can get back to doing what you do best.
Hard Drive Shredding and Computer Recycling
In addition to first-rate document destruction, IntelliShred also offers our services in eliminating your business's e-waste. While not as common as document-based fraud, your e-waste holds confidential information that could be dangerous in the wrong hands. Keep your employees and clients safe with our secure e-waste destruction services to eliminate products and material that includes:
Computers

Hard drives

Microfilm

Servers

Data tapes
IntelliShred is committed to keeping your business safe from fraud and information theft. For efficient and secure document destruction services, contact us to get a quote or schedule our help for your business today.