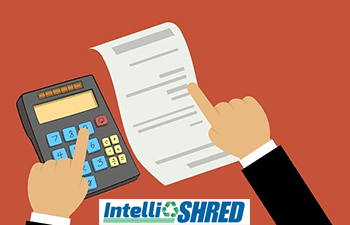 Questions That Help Determine The Cost To Shred Documents
In this day and age, there's always a need to dispose of or destroy confidential information – especially in paper form. Although hiring a professional shredding company seems straightforward, there are many unknown variables that need to considered to determine the cost of their services.
There is always an expense, even when you're choosing to shred documents on your own. The equipment you'd be using would not be able to handle a large volume of paper, and more importantly, it may not shred the paper down to the proper size.
For the same price of maintaining your office shredder, tasking your employees and paying for a disposal service, you could hire a local shredding company. The cost of doing it yourself could be high if your employees don't handle the process correctly, or if the information is stolen you could lose your organization's reputation.
For most businesses needing to shred paper, cost savings of $10-15 per random shredding job is less important. In the long-run, on-site/mobile shredding is cheaper (about $10 less per bin). Plus, if the cheaper company is shredding offsite, your information could be less secure, costing more in the long run. So, how much does it cost to shred documents?
Here are some important questions which may make it easier to determine exactly how much it costs to shred documents:
How Much Do You Have to Shred?
Volume is the number one factor that should be considered. If you don't determine how much your volume is, your shredding service will not be able to properly estimate the cost of the job. The recommendation is that if you have smaller shredding projects (under 100 pounds), then you should be able to transport the documents yourself to save money. For shredding projects (over 100 pounds), it's best to use a mobile shredding service that will shred a larger volume on-site. There could be greater discounts for larger volumes of paper shredded at once, which could save you money in the long run.
How Much Time Do You Have?
Depending on your schedule, there can be tremendous flexibility in how your shredding service is set up. If you have a shredding location near you, you can schedule a time to drop off your documents at your convenience. However, if a shredding location is not accessible, a mobile shredding service should be able to handle shredding everything for you right outside your doorstep. This could be more cost-effective, and it is the most efficient and convenient way to get the job done.
How Flexible is Your Schedule?
The flexibility of your schedule may greatly impact which shredding service you choose. Some services require advanced scheduling, while others will come to you the instant you call (there are also 24-hour emergency services). Mobile shredding trucks are usually scheduled in advance, anywhere from a few days in advance to a few weeks, depending on the time of year and how busy the shredding company is.
What Level of Security Do You Require?
Mobile shredding services are completely secure, but it's wise to be detailed about what level of security is needed as your documents get destroyed. If documents are dropped-off, they may be at a higher risk than if they were shredded on-site. The risk of identity theft and/or a breach of data can be way more costly over time. Today's high-tech mobile services are just as secure as the alternative – and the shredding can even happen with your supervision.
Just by knowing the answers to the questions above, you could save up to savings of 15-20% on the cost of the job. The right shredding partner will most-likely customize their contract and provide you with an up-front pricing guarantee. Make sure the vendor you choose complies with all applicable privacy and environmental laws and industry standards.
At IntelliShred, we are here to help find an economical way to protect your confidential information. We offer high-volume discounts and we do not charge any rush fees. Contact us today to learn more about our services.