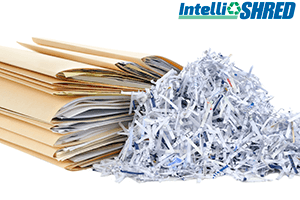 Data breach is often caused by the improper treatment of important documents and other physical records. It's not enough to tear documents up and discard them. Just as confidential, sensitive, or proprietary information should be stored securely, it should be disposed of securely when it is no longer needed.
The loss of confidential or sensitive information can put your customers or clients at risk, not to mention your business itself. It's essential to make sure that such documents are disposed of correctly. This is why we offer convenient and effective Monmouth County paper shredding services.
Paper Shredding
Shredding is the most effective way to destroy physical documents. And the best way to shred documents is to do so onsite. At IntelliShred, we offer secure and comprehensive document destruction services, and we can do it on your site. Other companies may charge you extra to collect the documents and transfer them to a secure location. We can get the work done without taking the documents away.
Many of our clients opt for on-site shredding because they get to see that the sensitive documents are destroyed right in front of them. This is best for peace of mind. You can hire our Monmouth County paper shredding team and we'll either take your documents away in secure containers or you can watch our strict process for making your information 100% irrecoverable on-site. The choice is yours.
Security is our top priority and we never sacrifice this for speed. However, we also pride ourselves on providing a comprehensive but convenient service. Our process is as efficient as it is effective.
Professional Shredding Certificates
Not only does our Monmouth County paper shredding give you peace of mind, but it also gives you a Certificate of Destruction. This can be useful for your records and for your clients. Our certificate details how many documents we shredded and we confirm that we destroyed them safely and securely.
One-time Shredding
When you need to destroy documents urgently, don't leave anything to chance. When people are in a hurry, they can make mistakes. When large volumes are involved, miscommunication, fatigue, and human error may all play a part in some documents escaping destruction. For one-time or purge shredding, get in touch with our team to make sure the job is done comprehensively.
On the other hand, some of our clients simply want to destroy documents because they are taking up large amounts of office space. You too can get in touch with us for:
clean-up of files once a year
audit or litigation finalization
destruction of files for legal or compliance reasons
destruction of files for corporate relocation, consolidation, or reorganization
Regular Monmouth County Paper Shredding
Other clients in the area must destroy documents securely on a regular basis, often weekly. This may be to satisfy legal requirements, to observe smart document destruction practices, or to help with organization. Whatever the reason, our team can handle regular paper shredding for your firm.
First, we'll assess how many secure documents need to be destroyed and we'll cater to your needs for document destruction with a plan that suits you, whether that is bi-weekly, weekly, or monthly.
For regular shredding, our professionals will arrive promptly at a time that suits you to collect your documents to be shredded. You will have already placed these in our secure containers. We take the document bins and empty them into a state-of-the-art mobile, shredding truck where you can observe the shredding process for yourself on the truck's live video screen.
Our Monmouth County paper shredding services offer you the peace of mind, convenience, and accountability you need. Get in touch with us today for a fast quote.