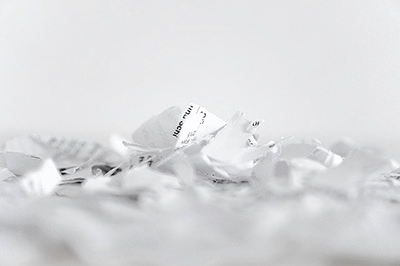 It's no secret that many companies find it difficult keeping up with identity theft and data breaches in Bucks County, PA. Make life a little easier on yourself and hire a local paper shredding company for all your data destruction services. If you value your company, safeguard it is through proper shredding and destruction services. We offer you the very best in paper shredding services in Bucks County, PA.
If you are a business in Bucks County and are looking for a credible shredding company, read on to see what you should be looking for.
Not all document shredding companies are the same
Don't give your documents to someone you know nothing about. Look for a company with credentials. IntelliShred has been awarded the highest security rating, "AAA Certified" by the National Association for Information Destruction (NAID). We come by this certification by complying with all industry standards, ethical requirements, and all regulations established by NAID.
Always ask questions about the exact procedures followed by a shredding company
There are methods any paper shredding company in Bucks County, PA, should be more than willing to go over with you. The use of the latest equipment for shredding and destruction is essential. For any company, big or small, but especially for companies such as medical companies, data is particularly sensitive and you never want to see it fall into the wrong hands. A paper shredding company in Bucks County, PA, should welcome any questions you may have concerning what they do.
Ask about their expert technicians
Any paper shredding or product destruction services company needs the tightest security. You may want to ask specific questions about the people who get the jobs done every day and hear how trusted they are dealing with your confidential documents. Ask about the hiring process. Find out about the people who make up the company you are being asked to trust.
Today, it's all about being mobile
Back in the day, a company would gather up all of your documents and products and cart them away. If there was an accident or documents got lost or stolen, you never knew how that might affect your company in the long run. For paper shredding in Bucks County, PA, that is no longer necessary with mobile or on-site shredding services available. With on-site shredding, you can monitor the destruction process and rest assured that others are not viewing your sensitive data.
For over 20 years, IntelliShred has provided the best in document shredding and product destruction. We have the highest ethical standards and practices, and we only offer the most outstanding, personalized customer service.
For any business today, it is not easy putting your trust in a service that promises to deliver and rarely lives up to promises. IntelliShred was built on the foundation of not just personalized customer service but its innovative approach to shaping the future of the shredding industry.
We have many years of expertise in the commercial shredding and destruction services in Bucks County, PA. We have assisted hundreds of companies throughout the region protect their private information. Every day, we employ the highest standards, helping our customers destroy and recycle paper, floppy drives, CD's and DVD's, video cassettes, microfilm, microfiche, and much more.
You won't find a company that disposes of private, sensitive information better than us. Contact us today to learn more about our services and find out how we can help your business with all its paper shredding in Bucks County, PA.