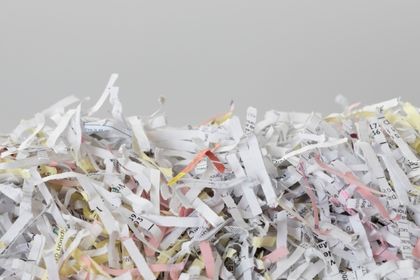 Businesses have a lot of sensitive data that they must always protect. When the information is no longer needed, you should destroy it to ensure nobody can access it.
Keep reading to learn the records to keep and records to shred for your business.
Financials
Businesses should securely store financial documents for their records in case of an accounting error, audit, or other transactional dispute. You should keep important receipts, invoices, and account statements for three years before disposing of them.
Other tax-related information, such as W-2s and 1099 forms, should be kept for up to seven years to ensure your business has access to all the financial information it needs for ongoing reporting.
Bills
Businesses make a lot of purchases during operations, but not everything is worth keeping. If the information isn't vital, it should be shredded right away. Billing information, credit card records, and sales receipts should be disposed of immediately so they don't become too hard to track.
Finding the best partner for shredding important documents can take some time. Use secure document shredding services to document and certify the entire process accurately.
Employee IDs
Employers often need to verify critical information about their employees, meaning they need to have personal identification on record. After identifying outdated documents, they should be disposed of through the correct channels.
Work authorization forms, driver's licenses, birth certificates, and social security cards are just a few of the most vulnerable items that need to be shredded rather than discarded in the trash.
Establish a System To Avoid Missing Anything
Businesses deal with large quantities of information regularly. A system for storing, evaluating, and discarding documents will ensure vulnerable information isn't leaked.
Knowing the records to keep and records to shred for your business will allow you to protect the safety of employees and maintain compliance.