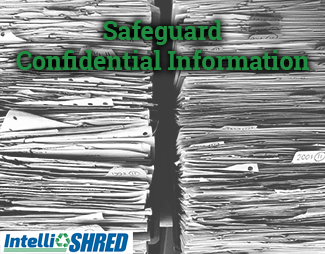 Safeguard Confidential Information
There are many ways businesses can reduce the risk of facing information theft and security breaches. One of the easiest preventive measures to implement is a routine schedule of the destruction of documents to shred and other information storage devices. It's essential to hire a professional paper shredding company in order to safeguard confidential information.
There are daily reports of fraud, theft and hacking these days, and today's companies both large and small are definite targets. Most recently, thieves have executed increasingly complex attacks, threatening businesses worldwide. When that happens to a business and their brand, there could be irreparable damage, revenue loss, hefty fines, and even legal action.
According to the Computer Security Institute and the FBI, data theft is growing at more than 650% over the past three years. There are government regulations like the Gramm-Leach-Bliley Act and the Sarbanes-Oxley Act. These laws were put in place to help protect companies from fraud and theft.
It's necessary to have a comprehensive Digital Defense strategy in place, and it's clear that part of your strategy should include the shredding and destruction of your digital media storage devices. If your company is going to shield itself, it's best to be proactive against the current threats.
Hiring a shredding and destruction service is the one of the most secure ways to safeguard confidential information to ensure it doesn't fall into the wrong hands. Regardless of size, industry or specialty, any business can benefit from hiring a professional paper shredding company to help protect valuable data.
It's also more efficient and more productive – much better than paying your staff overtime to complete the task. The average U.S. office worker uses approximately one sheet of paper every 12 minutes and disposes of roughly 100 – 200 pounds of paper every year. Think of how much time is saved if a professional shredding service is used. When you outsource the job, your employees have more time to focus on more important work.
When you hire a professional shredding service, they should be able to offer the convenience, flexibility affordability and security you are searching for. Mobile shredding trucks make it easy by coming directly to your business to shred on premises. Every service should offer to haul your shredded or destroyed items away and provide you with a Certificate of Destruction, proving that everything was safely destroyed. The shredding and destruction process should also involve security cameras, monitors and other specialized equipment to ensure that everything is handled securely.
Whatever volume of shredded material your business generates, an experienced professional shredding service will make it easy for you to safeguard confidential information. Documents and digital media storage devices should always be shredded in accordance with NAID AAA standards – make sure that the service you hire has met and exceeded these standards.
At IntelliShred, we are certified and have a team of experts ready to handle whatever shredding job you have. We've had years of success in helping our customers with professional shredding and destruction services. Contact us today to learn more about how we can help you safeguard confidential information.