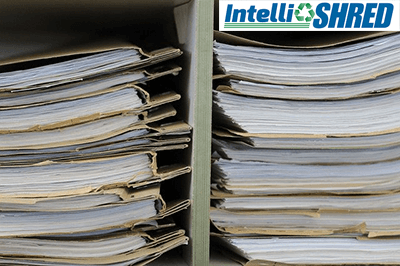 Every company is responsible for retaining files which contain sensitive information. These important files must be disposed of properly, otherwise, they could fall into the wrong hands. Most organizations think they can handle disposing their files on their own, with a small office shredder. This method is not only inefficient, it is not safe and could end up costing you in the long run. If you shred your own documents, you run the risk of an employee stealing confidential information.
Secure On Site Shredding
Instead of transporting documents to a shredding facility and wasting your employee's time. Mobile shredder trucks come to your business and shred your confidential documents right in your parking lot. You are able to watch as the bins are taken out to the truck and then shredded.
Reaping the benefits of secure on site shredding is easy – it all starts with finding the best professional shredding and destruction service.
Hire a Professional Shredding Service
Confidential information is easy for thieves to gain access to if you don't have protective measures in place. Most paper documents have sensitive information like, addresses, phone numbers, social security numbers, etc. Hiring a secure on site shredding service can eliminate the risk of criminals stealing confidential and personal documents.
The professional shredding service will provide locked shredding bins at your location so that documents can be collected securely until they are scheduled to be shredded. The locked bins will be removed from the building when it's time and their contents will be shredded in front of you in the parking lot.
Convenience
On a regular basis, professional shredding will help clean out filing cabinets and offices so that confidential information will not end up in the wrong hands. Secure on site shredding is convenient because it is always executed at your location. There are no transportation costs or other extraneous fees that come along with getting your files to a shredding facility.
Savings
Saving time and money is something every company strives to achieve. A professional shredding service can handle hundreds of pounds of paper in a fraction of the time that it normally takes. Because of this time savings, the cost of shredding your materials will be less than you expected
Compliance
It's crucial to maintain legal compliance for your organization, especially in today's economy. This is why secure on site shredding is valuable – they know how to navigate the privacy rules and regulations in order to remain compliant. A highly-qualified shredding service will also put their technicians through rigorous background checks as a safeguard.
In order to avoid legal action or penalties and fines, it's important that your organization is in compliance with any federal and state privacy laws. A secure on site shredding service will provide you with an official certificate of destruction when the job is complete, so you have proof of compliance. The certificates of destruction for each job will show that it was done in a secure fashion.
Cost-Efficient
Exactly how much does on site shredding cost? The typical cost of on site shredding varies based on these three factors:
The volume of items needing to be shredded
The type of material being shredded
The frequency of shredding needed
Make sure your organization can reap the benefits of secure on site shredding services. Set up a regular shredding schedule that's convenient for you and make sure you find the best possible shredding service available in your local area.
At IntelliShred, we have spent years perfecting our shredding and destruction methods. We only hire the most qualified technicians available to handle your shredding and destruction needs. We are industry certified and our customers come back to us year after year! Contact us today to learn more about how we can help safeguard your business.