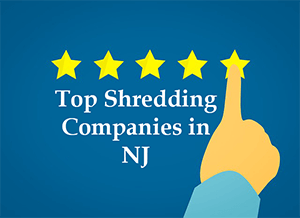 Top Shredding Companies In NJ
There are essential external services every company needs to maintain their success. One of the most important is a professional shredding and destruction company. There are many shredding companies here in NJ that have the experience and outstanding service you're looking for.
#1 IntelliShred
With 20 years of helping customers shred and destroy their confidential documents, hard drives and other media storage devices, IntelliShred continues to lead the pack in the Garden State. Their fleet of mobile shredding trucks can execute jobs of all sizes, efficiently and securely. They are proud members of the National Association for Information Destruction (NAID) and have consistently achieved AAA Certification – the highest security level in the shredding industry. Customers consistently depend on them for security, quality service, and integrity. Contact them today for more information.
www.intellishred.com
Phone: 1-866-747-3360
30 Royal Road Suite 3
Flemington, NJ 08822
#2 Shred-it New Jersey
Shred-it is designed to help businesses of all sizes protect themselves against the threat of privacy breaches. They have developed proprietary technologies and services which help them serve both large and small organizations. Shred-it has customers across almost every sector – from government and healthcare, universities and colleges, banks and financial institutions, to police forces, military, and intelligence agencies.
www.shredit.com
Phone: 1-888-750-6450
#3 Shredding Services of NJ, LLC
Shredding Services of NJ was established in 2006 for business and residential customers who have a need for on-site and off-site document destruction at an affordable price. Their services are scheduled by appointment and they can accommodate any special shredding needs. Their annual and monthly service programs save customers thousands of dollars each year by reducing costly storage and file space used for their outdated confidential records. By offering their customers a complete line of Dahle paper shredders they can meet their document destruction needs from one source.
www.shreddingservicesnj.com
Phone: 1-908-904-1500
P.O. Box 883
Piscataway, NJ 08855
#4 Pro-Shred Security
As the only ISO 9001 certified secure on-site shredding company system in America, PROSHRED® frontline operations and procedures are continually audited by both ISO 9001 and the corporate franchisor. PROSHRED® pioneered on-site shredding over 30 years ago and continues to excel at providing its shredding services. Protect your confidential documents with the most secure, well-trained and responsive on-site shredding service available.
www.proshred.com
Phone: 1-201-366-0091
2500 Plaza 5, 25th floor
Jersey City, NJ 07311
#5 EcoShred
Ecoshred provides the most professional information destruction services available in NJ for the best value. They can render all material legally non-negotiable and indecipherable to save your business from the risk of identity theft. They work to lower their impact on the environment with a fuel efficient, clean burning mobile shredding fleet. You can rest assured that their shredding services are done in a secure, controlled environment, without the use of fossil fuels.
www.ecoshred.com
Phone: 1-732-926-8200
4301B New Brunswick Avenue
South Plainfield, NJ 07080
#6 Confidential Shredding
Founded over ten years ago, Confidential Shredding's team collectively has more than 25 years' experience in the shredding and recycling business. Throughout the tri-state area, Confidential Shredding builds security programs designed specifically to fit the needs of each specific customer.
www.confidentialshredding.com
Phone: 1-201-573-1400
P.O. Box 8643
Woodcliff Lake, NJ 07677
#7 DocuVault
DocuVault provides the highest quality shredding services that will securely manage your confidential documents and other media storage devices. Their outstanding personal service and quick response to your call helps them achieve excellent customer service standards.
www.docuvault.com
Phone: 1-856-209-4705
1395 Imperial Way
West Deptford, NJ 08066
#8 IDSAutoshred
IDSAutoshred offers one-time purge onsite shredding and recurring daily, weekly, and monthly on-site mobile shredding for their customers. Their uniformed, bonded IDSAutoshred Representatives will come to your location, empty your bins, and safely shred the contents on-site in state-of-the-art shredding trucks. Other items such as CD's, X-Rays, casino chips, hard drives, etc. can be destroyed as well.
www.idsautoshred.net
Phone: 1-877-886-4732
101 7th, Street
Passaic NJ 07055
#9 Security Shredding Enterprises
Security Shredding Enterprises regularly services a variety of NJ-based businesses, including doctors' offices, law firms, CPA's, and insurance offices. They take pride in offering the highest level of customer support in the industry and they are an independently-owned business – so they are flexible and ready for hire.
www.securityshredding.net
Phone: 1-973-734-1911
200 Speedwell Avenue
Morris Plains, NJ 07950
#10 Polar Shredding
Polar Shredding provides dependable, cost-effective, on-site, and secure mobile paper shredding for New Jersey, Pennsylvania, Delaware and the surrounding areas. They opened our doors in 1968 and have never lost or mishandled a box or piece of paper that was intended to be shredded. Their services include shredding for scheduled daily, weekly or monthly pickups, or even for a one-time purge. Because they've been in business almost 50 years, their customers keep coming back again and again. Polar Shredding is also proud to be a veteran-owned leader in New Jersey.
www.polarshredding.com
Phone: 1-856-303-8220
2615 River Rd Unit 7
Cinnaminson, NJ 08077
#11 Guardian Data Destruction
Guardian Data Destruction provides a variety of data destruction services. Whether it's a one-time purge or a recurring shredding service, their team of experts will be able to provide a secure, cost-effective solution for your business. Their mobile shredding truck can shred up to 5,000 hard drives in a day on-site.
https://www.guardiandatadestruction.com
Phone: 1-888-556-9473
30 Wesley St. Unit 3
South Hackensack, NJ 07606
#12 Safe Shredding, LLC
Safe Shredding, LLC provides dependable, cost-effective mobile shredding for Northern, NJ and the surrounding areas. Safe Shredding's team of trained Destruction Specialists will come to your location to help you properly dispose of obsolete records and confidential documents. They are a member of the National Association of Information Destruction, Inc. (NAID), a global organization that promotes the highest standards of ethics for the information destruction industry. They also recycle whatever's leftover, so that your business can help save the environment.
www.safeshreddingllc.com
Phone: 1-973-403-0081
152 Eagle Rock Avenue
Roseland, NJ 07068
#13 American Shredder, Inc.
At American Shredder in Lakewood, NJ, the high-quality shredding services they provide do not go unnoticed. They specialize in document destruction and paper shredding for your private, commercial, or industrial needs. Their experienced team can provide a fair estimate, meet a prompt schedule and provide answers to your shredding questions.
www.americanshredderinc.com
Phone: 1-732-363-0650
170 Oberlin Ave North – Suite 20
Lakewood, NJ 08701
#14 New Jersey Shredding
This company not only provides shredding, but professional media destruction services to help you dispose of tablets and other digital media storage devices. Shredding electronics prevents any undamaged components from being put in a new device. They will help you safely and securely dispose of your confidential information.
www.newjerseyshredding.com
Phone: 1-201-371-5900
Elmwood Park, NJ 07407
#15 Shred Nations
Shred Nations offers document shredding and paper shredding in South Orange, New Jersey and surrounding areas. There is no job that is too big or too small for their network of local shredding services providers. They offer both mobile and offsite document shredding services for your convenience. If you are looking for fast, secure and reliable shredding services, they can help
www.shrednations.com
Phone: 1-800-747-3365
237 S Delsea Drive
Vineland, NJ 08360