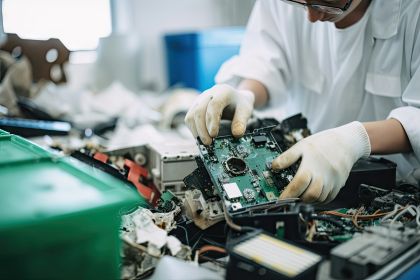 Today's businesses rely on many types of electronic products. Unfortunately, they only add to the growing problem of waste across industries. Finding the right partner will allow your business to eliminate waste safely and reduce its environmental footprint. Here's what to look for when hiring an E-waste destruction firm.
Privacy Policy
If your company works with technology for storing private user data, it can be difficult to dispose of it according to regulatory standards. Malicious actors can acquire this information and gain access to restricted systems or personal accounts.
Establish precautions to protect your employees, partners, and clients against potential breaches. An E-waste destruction firm should be able to destroy or wipe all of your storage drives, client devices, and other electronic equipment.
Disposal Costs
Another thing to consider when determining which E-waste company is best for you is the cost of service. E-waste destruction is a growing industry with a lot of competition. Finding quality and affordable service will ensure your organization stays within its budget.
The high cost of E-waste disposal is due to the need for devices to be sorted and broken down into basic components. Electronic shredding and destruction services can be costly due to the regulatory requirements associated with the process.
Commitment to Sustainability
Not all E-waste destruction firms are concerned about their environmental impact. Your partners should do everything possible to eliminate waste from their internal processes. In doing so, they show their commitment to sustainability.
Electronic equipment contains toxic substances. E-waste firms should never use acid baths or open-air burn pits to get rid of materials. A commitment to recycling and reusing products as much as possible will ensure waste is disposed of sustainably.
Take Steps To Manage Your Organization's E-Waste
Most industries produce some waste, but pollution resulting from the use of electronics has become an enormous problem. Finding a partner capable of handling your end-of-life devices can make a big difference in how much E-waste you produce. Knowing what to look for when hiring an E-waste destruction firm will enable you and your organization to reduce your environmental footprint and save money.