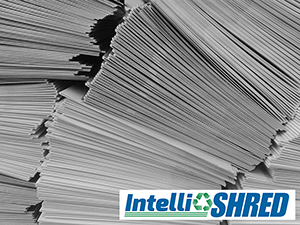 IntelliShred's mobile paper shredding service is a cost-effective, secure, and environmentally friendly method of destroying large quantities of unneeded paper or cardboard. Take a look at some of the many advantages that bulk shredding from IntelliShred can bring to your business.
Bulk Shredding
Operating a daily business can be challenging and eliminating unnecessary expenses can be difficult. In order to save that money from flying out the window, every business should aim to achieve efficient operations, while attempting to reduce expenses and increase profits. One of the ways a business can save money is to employ a professional bulk shredding and destruction service.
The smartest way to achieve savings is to offload the large volume of paper documents and other information storage devices to a bulk shredding service. With only using a small office shredder, you'll be spending more money when you must deal with the additional costs associated with using the machine (cleaning, maintenance, replacement parts). Most bulk shredding professionals will offer on-demand services, so you will only be paying for what you're using. It's way more convenient for you to outsource this work to a professional service – as it is a waste of time to do it in-house.
When tasking your employees with doing this time-consuming work, your company will lose productivity and there could be additional expenses for the business, depending on the volume of shredding required. Even more savings will occur when your employees return to their productivity levels. They will no longer be sitting around a tiny office shredder attempting to handle the shredding of your important business documents.
To calm the identity theft at work worries of customers, your business should share the manner in which their sensitive data is being used, stored and disposed of. It's essential for businesses to provide detailed information on exactly how these tasks are performed. Bulk shredding service companies will understand how to execute the shredding and destruction process in a confidential manner.
Secure Destruction
IntelliShred is set up to securely destroy paperwork containing client data, trade-sensitive data, and similar confidential material. We take security seriously at every stage of the destruction process. From the time we arrive at your facility, our mobile shredding operation takes every precaution possible to make sure your paper is securely and permanently destroyed.
Note that we issue a certificate of destruction once the work is complete so that you know with certainty that sensitive data isn't in the public domain.
All our work is completed in line with US government guidance on the destruction of paper that contains potentially sensitive data.
Cost Savings
Mobile bulk shredding saves our clients both time and money. We organize everything from transporting your waste paper to our shredder, processing the paper, and removing the shredded material off-site, ready for the next stage in its journey.
Our costs are competitive and our service fast, efficient and convenient. If you need a reliable, cost-effective waste paper solution, IntelliShred provides it.
Free up Space
One of the major problems with paper storage is that it takes up precious space. With growing numbers of companies moving to digital storage, there's no need for reams of paper records, invoices, or similar to continue taking up space. 
Many of our customers are delighted to find that our shredding service frees up many square feet of valuable workspace, that can be repurposed in a way that adds value to their operation. In some cases, customers no longer need to rent additional space specifically to store their unwanted paper – we remove the need for this type of rental, delivering a quantifiable cost-saving.
Improve Data Safety
No company wants to be sued because sensitive information regarding its clients and/or partners somehow got into unauthorized hands. Unfortunately, paper-based information is very vulnerable to theft and unauthorized copying. Digitalizing records and securely shredding paper copies is one of the best things an organization can do to strengthen its data security.
Compliance
Remaining compliant is another crucial step for businesses today. It's necessary to maintain compliance with current federal privacy regulations. Without compliance, businesses could face a more significant risk of severe fines or legal actions. The financial benefit is that this type of professional service will save you from any legal action by shredding in a secure manner, ensuring your private information remains confidential.
Green Option
Planet-friendly ways of working are important to almost every company for both financial and ethical reasons. Paper that is disposed of through bulk shredding ends up being recycled. Because IntelliShred deals with high volumes of shredded paper, we've sorted out a suitable recycling method. This ensures your paper is kept out of landfills as far as possible.
Unfortunately, the same can't be said for all methods of paper disposal. If you shred in-house and then dispose of the paper as part of your usual waste disposal processes, it's more likely to end up in a landfill.
No matter the size of your business, the best companies out there are great at providing transparency and excellent service quality. Professional bulk shredding also gives your customers the peace of mind that their data is handled in a very confidential and secure way. When your customers are free from worrying about identity theft, they're more likely to become loyal customers, therefore reducing your company's client acquisition costs.
Convenience, regulatory compliance, and incremental cost savings. Three important reasons why you should not wait to hire a professional bulk shredding and destruction company.
Since 1999, we have been providing Information security solutions to the tri-state area. We are committed to maintaining the highest ethical standards and practices, and outstanding, personalized service. Our membership in the National Association for Information Destruction (NAID) has been consistent and we achieve AAA Certification every year – the highest security standard in the shredding industry. Contact us today for more information about our services.