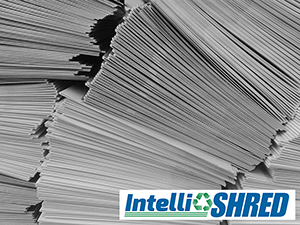 Bulk Shredding
Operating a daily business can be challenging and eliminating unnecessary expenses can be difficult. In order to save that money from flying out the window, every business should aim to achieve efficient operations, while attempting to reduce expenses and increase profits. One of the ways a business can save money is to employ a professional bulk shredding and destruction service.
The smartest way to achieve savings is to offload the large volume of paper documents and other information storage devices to a bulk shredding service. With only using a small office shredder, you'll be spending more money when you must deal with the additional costs associated with using the machine (cleaning, maintenance, replacement parts). Most bulk shredding professionals will offer on-demand services, so you will only be paying for what you're using. It's way more convenient for you to outsource this work to a professional service – as it is a waste of time to do it in-house.
When tasking your employees with doing this time-consuming work, your company will lose productivity and there could be additional expenses for the business, depending on the volume of shredding required. Even more savings will occur when your employees return to their productivity levels. They will no longer be sitting around a tiny office shredder attempting to handle the shredding of your important business documents.
To calm the identity theft at work worries of customers, your business should share the manner in which their sensitive data is being used, stored and disposed of. It's essential for businesses to provide detailed information on exactly how these tasks are performed. Bulk shredding service companies will understand how to execute the shredding and destruction process in a confidential manner.
Remaining compliant is another crucial step for businesses today. It's necessary to maintain compliance with current federal privacy regulations. Without compliance, businesses could face a more significant risk of severe fines or legal actions. The financial benefit is that this type of professional service will save you from any legal action by shredding in a secure manner, ensuring your private information remains confidential.
No matter the size of your business, the best companies out there are great at providing transparency and excellent service quality. Professional bulk shredding also gives your customers the peace of mind that their data is handled in a very confidential and secure way. When your customers are free from worrying about identity theft, they're more likely to become loyal customers, therefore reducing your company's client acquisition costs.
Convenience, regulatory compliance, and incremental cost savings. Three important reasons why you should not wait to hire a professional bulk shredding and destruction company.
Since 1999, we have been providing Information security solutions to the tri-state area. We are committed to maintaining the highest ethical standards and practices, and outstanding, personalized service. Our membership in the National Association for Information Destruction (NAID) has been consistent and we achieve AAA Certification every year – the highest security standard in the shredding industry. Contact us today for more information about our services.