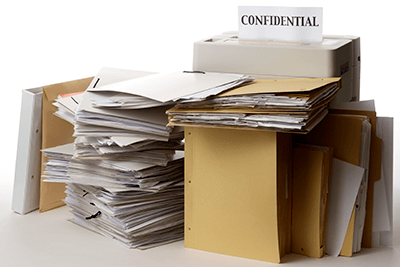 As information technology becomes more advanced, the need to store and secure that information grows, too. When it comes to securing confidential data, such as client addresses, past orders, and account details, all businesses need to consider what happens to that information when it is in hard copy form.
If you have customer information and you need to dispose of it securely, commercial document shredding services are the answer. Our firm can offer you peace of mind with a comprehensive, no-fuss approach to document destruction.
Why Use Commercial Document Shredding Services?
Shredding confidential documents ensures security for your firm, your employees, and your clients. By employing a firm to provide commercial document shredding services, you can rest assured that you will be adhering to the relevant regulations governing data protection.
Our technicians will provide you with a certificate to prove that the documents were destroyed and certify that they were disposed of securely. This document is great for your records. You can show it to your clients to reassure them that you are a trustworthy business and have their interests in mind.
How To Find Commercial Document Shredding Services
Choose your commercial document shredding service by looking at its track record. Examine client testimonials. You can't afford to take a chance with the security of confidential information, so it's worth opting for the most reliable service you can find. We recommend that you are motivated by quality rather than cost, although we understand that both may be a factor in decision making.
When you work with our commercial document shredding firm, we make things easy for you by coming to your location to get the job done. Not only is this convenient, but not having to move your documents around means that disposing of them will be more secure. All you need to do is place your documents in the secure containers that we will provide. Our technicians will collect these bins and destroy them on-site.
We destroy your documents on your premises. And we also invite you to watch it happen. With CCTV, you can watch us securely shred your documents in our mobile unit.
How Does Shredding Work?
Some cybercriminals are opportunists who happen upon confidential information and decide to use it or they may be career criminals who target an organization to get access to secure information. No matter the size of your business or the industry you are in, you need to consider the security and appropriate destruction of confidential papers.
It's not enough to dispose of confidential material in a bin. And while recycling is great for communities and the planet, we don't recommend it until after we have shredded the documents. Proper shredding helps protect your business from risks such as fraud and identity theft.
Our shredding service makes it impossible to piece the destroyed paper back together. It is much more thorough than the kinds of shredders available for self-service. And our shredders can handle much larger volumes of documents per hour.
Whether you need a one-off service because you are moving location, involved in legal issues, or clearing out an area to make more space, we can take care of bulk shredding. If you need regular document destruction service to take care of your clients and staff and fulfill regulatory obligations, we provide the flexible but comprehensive service you need.
For all of your commercial document shredding needs, and however frequently or infrequently, IntelliShred has the expertise you need. Please get in touch with us to discuss your goals. We will be happy to run through our services and adapt them to suit your needs.