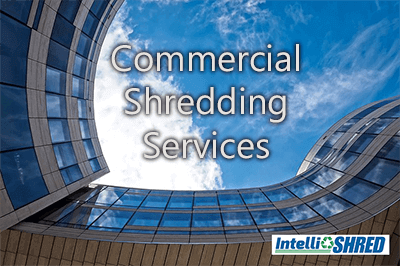 Commercial Shredding Services
Companies are struggling to protect confidential information from risk of theft. It's something no company should have to face, but ultimately, it happens to everyone at some point. The best thing to do is to learn what measures you can take to protect your confidential information.
No matter what industry or business you're in, your company will collect sensitive information from employees, customers and partners. Without focusing on how to protect this information, you may face a significant risk of identity theft or fraud. It's important to shred any unnecessary business documents, or other media that contain sensitive information.
Even government agencies have experienced intense security breaches and have faced lawsuits for not protecting their confidential information. Not handling your sensitive information properly has its consequences. Large businesses, and corporations should adhere to the strict regulations that are in place today. Breach of privacy regulations like HIPAA, FACTA and GLB can result in a corporation facing heavy fines, or even jail for its corporate officers.
Most organizations believe that economical smaller office shredders are good investments, however, these methods are not efficient, nor are they secure. Small shredders do not completely destroy documents or other forms of data, and are not reliable for the disposal of sensitive information. Because of this, there are some instances where confidential information may end up sitting around in an office somewhere or dumped in a regular trash can.
It's easier than you think to protect your company from risk. It's simply a matter of working with third-party commercial shredding services. These types of services provide you with certification of destruction and the peace of mind knowing you've lessened your company's liability for the breach of confidential information. It's best to choose a partner who is NAID AAA Certified, and has state of the art mobile shredding capabilities as well. Professional shredding and destruction services are an extremely low-cost, convenient solution.
Third-party commercial shredding services can help your business destroy documents or digital files which contain confidential or proprietary information, such as:
Bank Account Statements
Client Lists
Credit Card Information
Employee Applications & Other Records
Insurance Records
Proprietary Information
Market Research
Accounting Information
There are some businesses that generate larger amounts of paper on a daily basis – for them, commercial shredding services are even more essential. When you find the right vendor for your business you will rest easy knowing you're risk of identity theft has been significantly reduced.
Whether it's a one-time shredding service, or a regularly scheduled shred for your business, IntelliShred has the right combination of equipment, tools and staff, capable to meet your product destruction, shredding and disposal needs.
We have over 30 years of experience and are leaders in the industry. Our highly-qualified team can help you adhere to privacy regulations and ensure your sensitive information is secured. We know that your protecting information is crucial to your business. Contact us today for more information on our secure, and reliable commercial shredding services.